Tulip Poplars Populate Campus
By Megan Z. Shearin |   June 24, 2010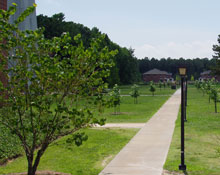 The newest members of the Virginia Wesleyan College campus are here to stay permanently.
Thirteen Tulip Poplars, the fastest growing large shade tree, were recently planted thanks to the generous support of donors.  They were planted along the pathway to Village IV, and 18 more are expected to be added for a total of 31, as part of the College's Master Landscape Plan.
Ann Stokes, landscape architect for the College, said she selected the Tulip Poplar tree for several reasons. They are attractive, native trees and a species that Thomas Jefferson admired.  In fact, a single 120-foot high Tulip Poplar is still present on the grounds of Monticello, Jefferson's mountaintop home in Charlottesville, Va.  The trees distinctive cup-shaped yellow flowers give off a subtle fragrance and the green leaves turn a bright yellow color in the fall.
Vice President of Operations Bruce Vaughan said this project supports the Marlins Go Green campaign, a campus-wide greening initiative to improve environmental sustainability at Virginia Wesleyan.  He cited the high drought tolerance of the trees, the canopy shape which reduces the "geothermal heating effect" or the sun hitting the pavement, being absorbed and then heat being transferred back into the atmosphere, the trees native origins exerting less energy to transport and the reduction of carbon in the atmosphere.  And two student workers, Ed Roberts '12 and Derek Wood '11, planted the trees, he noted.
Since 2006, the College has been working on the Master Landscape Plan.  Transformation of the landscape has begun with the addition of berms around the campus perimeter; the converting of an existing dry Best Management Practice (BMP) to a wet BMP; re-planting of native shrubs and perennials at the College's main entrance and signs; and new landscaping around Village IV during construction and the Hofheimer Library during renovation.
"Walking around campus and experiencing outside spaces is one way students remember and have a positive association with the institution," said Stokes. "It seemed like Virginia Wesleyan was the perfect place to have these beautiful, historical trees.  It just makes sense."  "The Master Landscape Plan was designed with native plants and the concept of sustainability.  These Tulip Poplar trees reinforce the College's green aspirations and add to the beautiful, natural elements on the Virginia Wesleyan campus." – Bruce Vaughan
"One of our biggest goals for the plan was to make the landscape reflect the mission and goals of the College as a whole," said Stokes.  "Native plants, shrubs and trees are elements of a beautiful campus and make the landscape a feature, reflecting the College's green aspirations."
Those interested in helping Virginia Wesleyan green the campus by planting a tree should contact Bruce Vaughan at 757.455.3309 or bvaughan@vwu.edu.  Each tree is approximately $120 and includes planting.