Dean of the Birdsong School of Social Science
Dr. Robert B. Albertson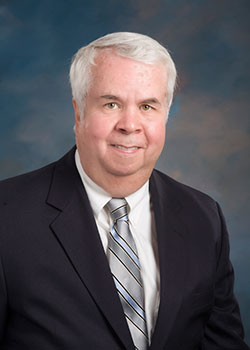 Dr. Robert B. Albertson is Dean of the Birdsong School of Social Science at Virginia Wesleyan University. He received his B.A. in History, M.B.A., and also his Ph.D. in Urban Studies from Old Dominion University. At Virginia Wesleyan, he has previously served as Chair of the Social Sciences Division, Associate Dean of the University, and Coordinator of the Department of Management, Business, and Economics. Dr. Albertson has taught at Virginia Wesleyan since 1979 and was recognized in four recent consecutive editions of "Who's Who Among America's Teachers".
Dr. Albertson has been deeply involved in civic and historical organizations, including the Olde Towne Civic League and the Olde Towne Foundation. He authored Images of America: Portsmouth, Virginia (Arcada Publishing Company) to commemorate the 250th anniversary of the city of Portsmouth. Dr. Albertson was the first recipient of the Emily N. Spong Historic Preservation Award. He has been active with the Board of the Multiple Sclerosis Society of Hampton Roads and the "Virginia Beach 2007" commission, where he had a leading part in the ceremonies commemorating the first landing by the English explorers in 1607.
Dr. Albertson is a member of Phi Alpha Theta (History), Sigma Beta Delta (Business), Pi Alpha Alpha (Public Administration), and Phi Kappa Phi (Academic Excellence). He lives in Portsmouth with his wife, Lorraine.