The Human Element
Author David Brooks' funny and thought-provoking speech at College's 50th Anniversary Luncheon touches on a variety of topics including his love for the liberal arts
By Leona Baker | March 26, 2012
View the photos from this event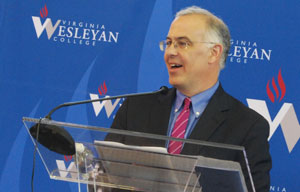 In his New York Times bestseller, The Social Animal: The Hidden Sources of Love, Character and Achievement, author and commentator David Brooks explores human behavior through the lens of contemporary neuroscience and sociological research. What he finds is that the heart, not the head, is the defining force behind why we are the way we are. And that's a good thing.
As the keynote speaker for the College's 50th Anniversary Community Celebration Luncheon on March 21, Brooks brought insight and humor to a variety of topics-from politics and public life to interpersonal relationships and education.
"People learn from the people they love," Brooks said. "We can't ignore the human element. We focus on the things that are easy to measure, but the deeper human stuff is hard."
The "deeper human stuff," Brooks argued, is what allows us to make connections, to find meaning and establish a set of values for our lives. He talked about the importance of the individual relationship between teacher and student and how small liberal arts colleges like Virginia Wesleyan are able to cultivate that relationship.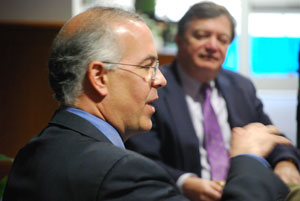 In his writing, Brooks has been a strong advocate for the liberal arts model in higher education. In his speech, he noted importance of the "soft skills" that are developed by tempering reason with sentiment, by integrating the objective with the subjective.
"When you read a book or look at a painting, you widen your emotional repertoire," Brooks said, and it is our emotions that allow us to reach beyond a catalog of knowledge to think and act creatively, even courageously.
The 50th Anniversary Luncheon was attended by more than 250 friends of the College who gathered to pay tribute to Virginia Wesleyan's accomplishments over the past 50 years and to hear speaker David Brooks. Guests included business and education leaders from throughout Hampton Roads, members of the media, members of the VWC Board of Trustees, VWC faculty, students and administrative staff.
Norfolk Mayor Paul Fraim and Virginia Beach Mayor Will Sessoms shared the podium before the keynote speech, honoring Virginia Wesleyan's tremendous contributions to the Hampton Roads community and trading friendly jokes about which city could most legitimately claim the College since its wooded 300 acres are situated in both municipalities. Mayor Sessoms concluded by reading a proclamation declaring March 21 Virginia Wesleyan College Day.
Prior to his speech at the luncheon, David Brooks was the guest of honor at a question-and-answer session with students, faculty and staff in the Pearce Hospitality Suite in the Jane P. Batten Student Center. Following the luncheon, he signed copies of his books for attendees.
Brooks' appearance at the College is among the final events planned in a year of celebrations marking five decades of distinction for Virginia Wesleyan College. Towne Bank has been signature sponsor throughout the College's 50th anniversary.