Graduates Go Boldly
Peace Corps Director Carrie Hessler-Radelet urges Class of 2016 to choose optimism during VWC's 47th Commencement Ceremony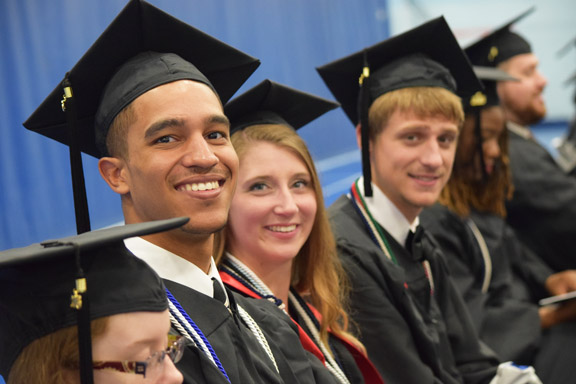 News Release | May 14, 2016
Photo Gallery: 2016 Commencement
"As you gaze toward the horizon, Class of 2016, I would urge you to choose optimism," Peace Corps Director Carrie Hessler-Radelet told graduates during Virginia Wesleyan College's 47th Commencement Ceremony on May 14. "Choose to look at the world as it is, and believe in what it can become."
As keynote speaker, Hessler-Radelet celebrated global achievements and encouraged continued progress and positivity among new graduates.
"The thing about optimism is that it doesn't just make it a whole lot easier to wake up and get out of bed in the morning—it frees you to look boldly and fearlessly to the future. It empowers you to square up to impossible-seeming challenges—like poverty or race relations or climate change—and ask simply and humbly, 'Where do I begin?'"
She began her own international development career as a Peace Corps Volunteer in Western Samoa. From there, she went on to spend over two decades working in public health, focusing on HIV/AIDS and maternal and child health before returning to the Peace Corps. She was sworn into office as the 19th Director of the Peace Corps in 2014.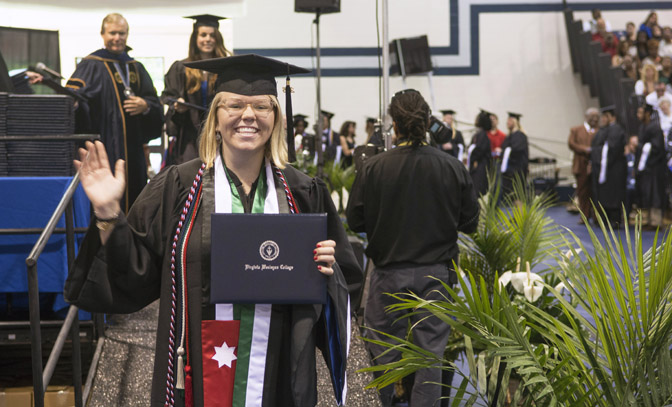 Hessler-Radelet was introduced by the first student to graduate as part of Virginia Wesleyan's Peace Corps Prep Program, Mindy Bertram '16, who begins her own Peace Corps service in Cameroon on May 24.
"I'm so thankful for my time here at Wesleyan," says Bertram, who graduated with a double major in biology and international studies. "It has been a time where I've been able to foster my joys and passions so unapologetically. No matter where I end up in life, I will always try to spread the community that I was given here. Even though I have to leave physically, the spirit and love that is in this place will always be with me."
Commencement was held in the Jane P. Batten Student Center, where approximately 325 graduates received Bachelor of Arts, Bachelor of Science, and Bachelor of Social Work degrees. The ceremony was attended by family and friends, VWC faculty and staff, alumni, friends, and honored guests, each celebrating the graduates' achievements and promising futures.
"After today, you will no longer be VWC students," VWC President Scott D. Miller told the Class of 2016. "For the rest of your lives, you will be Marlin alumni, and as such, one of more than 9,000 accomplished men and women whose experiences at this premier national liberal arts college continue to inform careers and contributions."
President Miller acknowledged graduates who are veterans of the Armed Forces and directed guests to the Army ROTC Commissioning Ceremony following Commencement. At the ceremony, Clay Jones '16, a criminal justice major from Virginia Beach, was commissioned to Second Lieutenant in the United States Army.
Timothy O'Rourke, Vice President for Academic Affairs and Kenneth R. Perry Dean of the College, recognized four Virginia Wesleyan faculty members during the ceremony: The recipient of the 2016 Samuel Nelson Gray Distinguished Teaching Award was Assistant Professor of Education William McConnell; The annual Frank and Jane P. Batten Distinguished Scholar Award went to Professor of Philosophy Steven Emmanuel; The Service and Community Engagement Award was presented to Professor of Art History and Co-Chair of the Academic Effectiveness Committee Joyce Howell; and the United Methodist Church General Board of Higher Education and Ministry 2016 Exemplary Teacher Award went to Professor of Management, Business, and Economics Linda Ferguson.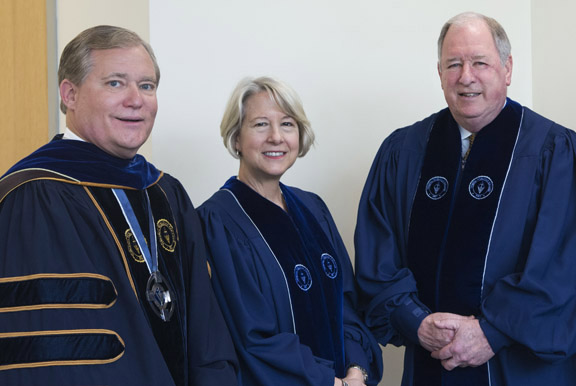 The College recognized Carrie Hessler-Radelet and Virginia Wesleyan Trustee Emeritus George Y. Birdsong, CEO and General Counsel for the Birdsong Corporation, with honorary doctoral degrees. The recipients were presented by Professor of History Clay Drees and Professor of Sociology Kathy Stolley, respectively. President Miller, Dean O'Rourke and VWC Board of Trustees Chair-elect David Kaufman conferred the degrees.
The ceremony closed with the singing of the College's alma mater led by 2016 graduates Ajee Church and Heather Ramsburg, accompanied by Eastern Virginia Brass.
View Carrie Hessler-Radelet's Commencement address to the Virginia Wesleyan College Class of 2016 in its entirety.
Photos in this story and Flickr gallery by Janice Marshall-Pittman. Candid Color Photography also took photos of each graduate crossing the stage. Those photos will be available for purchase online at www.candidcolor.net approximately 10 days after graduation. The following login code is required: VWSG16