A Camping We Will Go
YMCA Camp Red Feather among long list of summer fun at VWC

By Stephanie Smaglo | July 18, 2014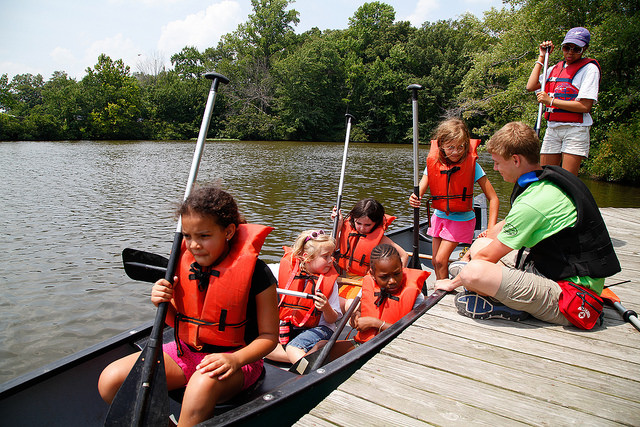 "Heee-eeey, hooo-oooo—Camp Red Feather got soul!"
Throughout June, July and August, Virginia Wesleyan visitors can expect to hear catchy call-and-answer chants like these as the energy—and soul—of Camp Red Feather catapults from all corners of campus. Each summer, nearly 2,000 campers ages five to 17 come to VWC to play, discover and grow as part of the YMCA day camp program.
With 300 acres of trees, trails and the beautiful Lake Taylor, the VWC campus provides the perfect setting for a week-long outdoor adventure. Campers are asked to leave their cell phones and personal electronics at home and to instead pack a bathing suit and sturdy shoes for activities like canoeing, fishing, hiking and archery.
"We want to bring kids back outside," says Camp Director Samantha Smith.
Camp Red Feather has taken place on the Virginia Wesleyan campus for about a decade, the result of a long-time partnership between VWC and the YMCA of South Hampton Roads. The relationship has led to various recreational additions on campus, including a treehouse and dock near Lake Taylor and the 2011 installation of the Alpine Tower—a 50-foot structure designed for climbing and teambuilding exercises located off Smith Drive just west of the College's main entrance.
"It has always been a joy," says recreation and leisure studies professor Doug Kennedy. "The two organizations work so well together."
Run by the Blocker Norfolk Family YMCA, Camp Red Feather is broken into a School-Age Adventure Camp, for grades five through 12, and a Teen Extreme Adventure Camp, for sixth to 10th graders. Both traditional day camps, they offer kids the opportunity to explore nature, find new talents, try new activities and gain independence.
Many VWC students and alumni have participated in the camp throughout the years, gaining valuable leadership skills as counselors. Serving as counselors this year are current VWC students Connor Cassidy '15 and Morgan Posewitz '15 as well as alumni Kristen Blalock '12 and Ethan Wright '13.
Also run by the YMCA of South Hampton Roads is Camp Silver Beach, an overnight camp situated on the Chesapeake Bay. Many underserved children have had the chance to attend the camp over the years thanks to the fundraising efforts of VWC students in professor Kennedy's course, "Management of Recreation and Leisure Studies." Since its inception in 2003, the "Send a Kid to Camp" fund has raised more than $58,000 and helped send nearly 100 kids to Camp Silver Beach.
"It's proven to be a fantastic way to combine students' learning of financial project management with helping others," says Kennedy.
As always, the summer months are a lively bunch at Virginia Wesleyan with many extracurricular activities in full swing. The College's athletic facilities are host to multiple sports camps, including those for basketball, field hockey, lacrosse, softball, tennis and more. VWC is also the site of the annual Sacred Music Summer Conference, a non-denominational showcase of worship, theology and music. New to campus this year is "Summer Sundays of College and Community," an ongoing series of live music, poetry and open mic opportunities sponsored by the One Love Festival.
Be careful when visiting VWC this summer, as the enthusiasm of Camp Red Feather "tribes" is known to be quite contagious. You might just find yourself yelling, chanting and cheering right along with them.
For more information and fun photos, visit the YMCA Camp Red Feather Facebook page.