A Happy Homecoming
VWC traditions honored by alumni, family and friends at Homecoming and Parent Weekend 2013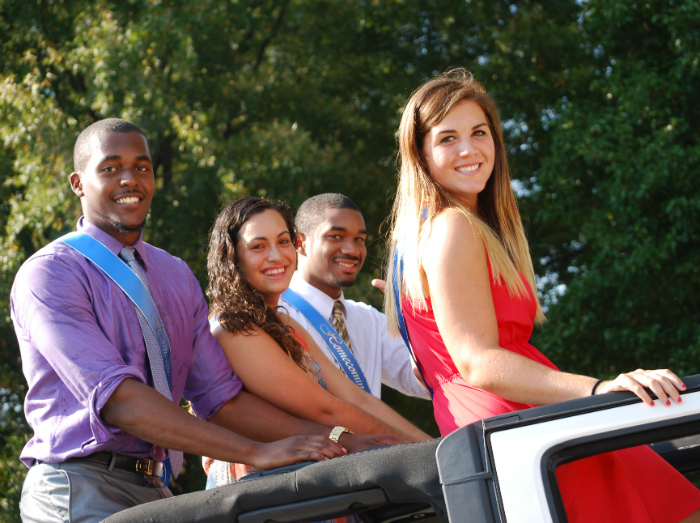 Photo Gallery: Homecoming & Parent Weekend 2013

Tradition, togetherness and team spirit were at the forefront of Virginia Wesleyan's annual Homecoming & Parent Weekend festivities Oct. 4-6, as alumni, students, parents, faculty, staff and friends helped celebrate the past, present and future of the College with three full days of events.

The masquerade-themed Homecoming Parade, hosted by the Student Government Association, kicked off Friday afternoon on the Batten Center sidewalk. Students, faculty and a few four-legged friends showed their Marlin spirit with costumes and skits of all kinds. Highlights included a dance routine from the Men's Basketball Team, an Oktoberfest float by the German Honors Society, and an ode to "Despicable Me" by the Women's Field Hockey Team. Balloons were dropped off the roof of Hofheimer Library, ending the parade in festive fashion.

Friday evening was the Performing and Visual Arts Alumni Reception, the popular Oktoberfest Dinner, and the Fall Arts Festival, featuring select acting scenes from the Theatre Department's fall musical Big River. The evening ended with an off-campus Alumni Social and the Marlin Masquerade Ball (Homecoming Dance).

Saturday hit the ground running with the second annual VWC Cross Country/Track & Field and American Legion Post 35 Homecoming 5K trail race. Proceeds from the event, held on the College's beautiful wooded trails, went toward VWC's Cross Country/Track & Field teams and the community work Post 35 does with military veterans and their families.

Also on Saturday, President Billy Greer welcomed parents and Lifetime Alumni members to the Parents' Council event Continental & Cocktails at the Everett Tennis Center. Guests enjoyed continental breakfast and morning cocktails while Lifetime Alumni and 2013 Alumni Award winners were recognized.

Annual Alumni and Conference Athletic Games were also held on Saturday, with a women's soccer game against Bridgewater College, a men's soccer game against Guilford College, and a field hockey game against Bridgewater College. In the spirit of friendly competition, alumni games were held by women's basketball, men's and women's lacrosse, and the baseball and softball teams.

Faculty Tent, Tailgate, and Alumni Reunion activities continued into the afternoon, including a glassblowing demonstration by The Chrysler Museum of Art. Night two of the Fall Arts Festival featured performances by the Virginia Wesleyan Chorale and the Wesleyan Singers and student artwork was on display in the Fine Arts building.

Homecoming and Parent Weekend concluded on Sunday with a worship service in Monumental Chapel and brunch in Boyd Dining Center.