A Marlin and a Patriot
Milton Clemmons, featured speaker at VWC Veterans Day ceremony, is a most valuable player on the team and off
By Leona Baker | November 15, 2012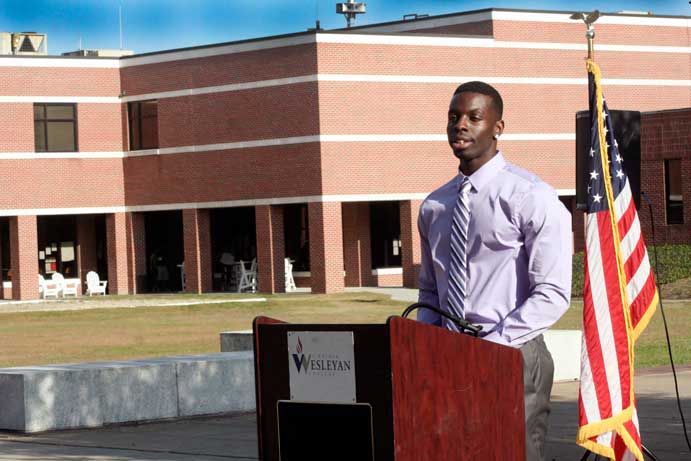 "I feel like I was molded and prepared to be a solider before I even set foot on the battlefield," senior and Army veteran Milton Clemmons told the crowd gathered outside Hofheimer Library for the College's Veterans Day Ceremony on November 12. Clemmons was emotional as he thanked his mother, Bernette Long, and a family friend and fellow veteran, Theodore Hall, who helped shape him in spite of challenging times as he was growing up.
At 27, Clemmons' journey to a college degree and a spot on the Marlins men's basketball team is one as inspiring as it is unconventional. Raised by a single mom alongside four siblings, Clemmons bounced around to four different high schools before graduating from Norview High in Norfolk in 2003. He took a year off before enlisting in the army and went on to serve just over five years including two tours in Iraq, 15 months of which were in Baghdad. He left the Army as an E-5 Sergeant.
"The military definitely helped me to be able to adapt to any situation," Clemmons explained. "To communicate with all types of people, different ethnicities, different social groups."
With help from the GI Bill, Clemmons came to Virginia Wesleyan to pursue a degree in criminal justice. He hopes to continue on to law school after he graduates in May 2013. But a degree and a career weren't his only ambitions when he arrived at VWC. He wanted to play college basketball. So he approached Head Coach Dave Macedo and asked if he could try out.
"I thought it would be a good goal to at least see if I could walk on," he said. "Coach didn't know anything about me, but I did let him know I had just gotten out of the military and that was something I could tell he took a liking to."
He joined the team his sophomore year and has since become something of a father figure to his teammates as well as part of a winning athletic program that brought the Marlins to the Sweet 16 in 2011 and the Elite 8 in 2012. He is also a real-life father to 5-year-old Styles, who has become an unofficial Marlins mascot, cheering his dad and the team on at games and practices.
"I think Coach Macedo has looked to me for a lot more leadership than he would from the younger guys," said Clemmons. "He expects that and I try to give him 100 percent of that and be a vocal leader."
Macedo introduced Clemmons during VWC's Veterans Day Ceremony at which Clemmons served as the featured speaker.
"Milton is very dear to VWC, very dear to our program and very dear to our community," Macedo said. "We're very proud to work with him and proud to have him as a Marlin. We are looking forward to his senior year and looking forward to him walking across that stage on graduation day."
For his part, Clemmons was happy to defer the spotlight to his fellow veterans and all those currently serving their country in the military.
"This is not about me," he said, "I actually want to thank the veterans. I want to thank them for being who they are. Not only do they help protect us while we're here but even when they come back they are helping instill those values in others."
Timothy O'Rourke, Vice President for Academic Affairs and Kenneth R. Perry Dean of the College, echoed the sentiment in his opening remarks at the ceremony.
"Our veterans have shown us the way," O'Rourke said. "Today we honor our veterans for their service, above and beyond the call, and we recommit ourselves to the republic for which they have stood and continue to stand so nobly."
This event marked the second annual Veterans Day Ceremony at VWC and what will undoubtedly become a Virginia Wesleyan tradition. Planning is also underway to create a memorial to honor members of the College family who have served in the Armed Forces of the United States and those who have lost their lives in service to our country. Envisioned as a space where people can gather in fellowship or for quiet reflection, the memorial will be placed just in front of the magnolia trees at the corner of the field behind Godwin Hall. Plans include permanent benches to be purchased and placed in close proximity to the memorial.