Agreement to Benefit NATO-ACT Dependents
"International Student Grants" now available for children and spouses of military command's Norfolk-based employees
By Leona Baker | July 3, 2013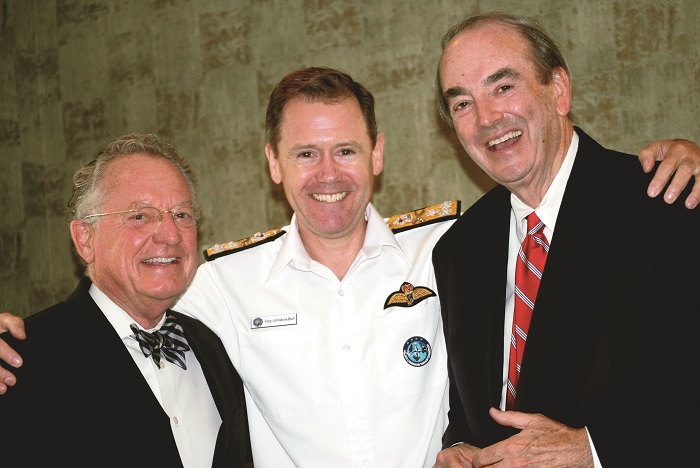 Virginia Wesleyan College President William T. "Billy" Greer announced in June that VWC has entered into its first-ever formal agreement with NATO-ACT (North Atlantic Treaty Organization-Allied Command Transformation). Under this agreement, Virginia Wesleyan is offering up to 25 "International Student Grants" of $9,000 per semester ($18,000 per year) to dependents of NATO-ACT employees stationed in Norfolk.

President Greer and NATO-ACT Chief of Staff, Vice Admiral Charles Anthony "Tony" Johnstone-Burt, CB, OBE, signed a "Letter of Accord" at a ceremony held on Friday, June 7 in the Shafer Room in the Boyd Dining Center. President Greer and Vice Admiral Johnstone-Burt were joined by VWC faculty and staff and representatives of NATO-ACT.

This agreement will benefit children and spouses of NATO-ACT employees. Potential students may begin taking advantage of this opportunity as early as the fall 2013 semester. NATO-ACT's headquarters are located in Norfolk, Virginia. There are 28 NATO member countries and 22 additional countries that are part of NATO's "Partnership for Peace."

"This agreement represents a milestone in Virginia Wesleyan's history," said President Greer. "The College is committed not only to expanding international opportunities for our students and embracing diversity within our campus community but to building truly global partnerships that promote positive change in the world."

In exchange for the scholarships offered under the new agreement, NATO-ACT will offer their staff's expertise to VWC's faculty and students in the form of guest lectures, NATO simulation opportunities and internship opportunities. Both organizations will work hand-in-hand to provide mutually beneficial experiences for their respective constituencies.