All-Nighters, Broken Hearts and Take Out
Seniors Courtney Pollard and Jade Ford demonstrate the powerful bonds of friendship often formed during the college experience
By Stephanie Smaglo | May 8, 2013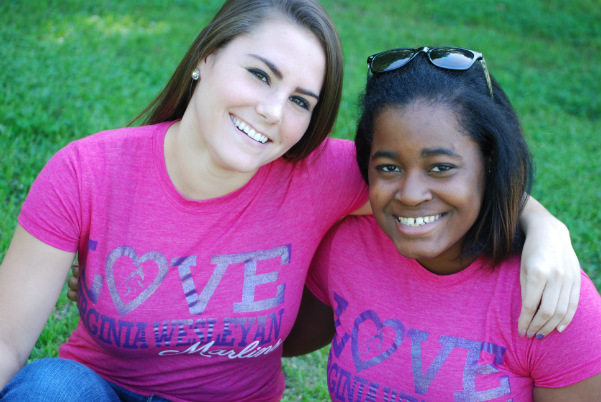 For most, college is a time in life unlike any other. If you are a typical 18 year old, chances are it's your first time away from home, away from Mom and Dad, your siblings, and your high school friends. You are suddenly in a situation requiring complete independence, experiencing personal growth at a rapid pace. Throwing hundreds of other young students into the same circumstance creates the perfect opportunity to forge bonds you didn't know were possible.

More than 600 miles may have separated Courtney Pollard '13 and Jade Ford '13 before they arrived at Virginia Wesleyan in 2009 – Pollard is from Lebanon, New Hampshire, Ford is from Virginia Beach – but when the girls met for the first time at their pre-season field hockey practice that fall, they became almost instantly inseparable.

"We had this big group," says Ford. "All of us on the field hockey team that were freshmen, we all kind of just bonded. We just got to know everybody that way."

A certain kind of human connection can be formed from working, living and playing in the same place, day in, day out. Powerful friendships emerge from the camaraderie and support built on all-nighters, broken hearts, take-out dinners, and the terrifying, thrilling, excitement that comes with being young and free for the first time.

Now seniors, Ford and Pollard follow virtually the same daily routine. They live together in Village III Apartments, and as communication majors, take all the same classes. Except for their internships, which coincidentally are both marketing-related and both located in Virginia Beach, they are living parallel lives.

"We probably would've taken the same internship if we could have," Ford says. "Besides that, we do exactly the same things every day."

Professor of Communication Dr. Kathy Merlock Jackson has taught the friends in several classes.

"They sit in the back of the room and are a quiet presence," Merlock Jackson says. "However, they send a powerful message. I admire their strong, easy friendship and support for one another. They are a model for all."

So what are these best friends, who spend their spare time at the mall, the beach and going out for Mexican food, going to do when they graduate later this month?

"I'm starting to apply for marketing and graphic design positions both here and closer to home," says Pollard. "It's been hard being so far away from my family."

Ford plans to stay in Hampton Roads to pursue a career in advertising.

"We're both stressed out because we don't know what's going to happen," Ford says. "Plus, Courtney might go to New Hampshire. That will be hard because we'll be so far away."

With only two weeks until graduation, Ford and Pollard say they have mixed feelings about their future. They are excited for what lies ahead but hesitant to leave their support system behind.

They won't be apart for too long, though. Ford is already planning a trip to New Hampshire this summer.

"We're going tubing," she says excitedly.

Six hundred miles may have separated the friends before Virginia Wesleyan, but from now on they will surely carry their friendship with them wherever they go.