Alumni Director Brings VWC Experience
Having begun her career in Residence Life in 1988, Lina Green grew up alongside many of the students she'll connect with in her new role
By Stephanie Smaglo | January 8, 2013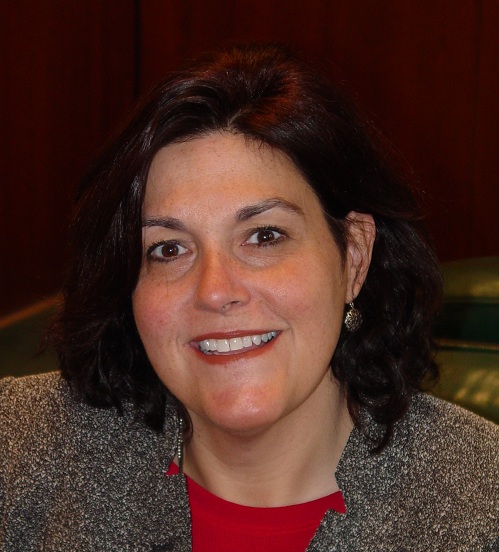 Whether it's fate, astrological alignment, or plain old luck, sometimes in life things just fall into the right place at the right time. This is definitely the case for Lina Green, who began her Virginia Wesleyan career in 1988 working with students in residence halls and now, 25 years later, will spend her days reconnecting with them as the College's new Alumni Relations Director. Lina's booming laugh, kind nature and welcoming personality make her an undeniably perfect candidate for this role, but it's the path that led her here that's truly fitting.

Lina grew up in Hamptonville, North Carolina on her family's tobacco farm, where she worked afternoons, weekends and summers. Around the time she entered high school, her family converted the business into a chicken farm. She continued to work on the farm, which during the height of the season produced 17,000 eggs daily. To this day, she still enjoys the satisfaction of cracking open a double-yoked shell for breakfast.

In the early 1980s, Lina packed up and headed southwest to the mountain town of Cullowhee, North Carolina, where she enrolled at Western Carolina University (WCU). She dabbled in interior design, political science, and even considered becoming a veterinarian before earning her bachelor's degree in criminal justice in 1985. Three years later she obtained her master's degree from WCU in education with a concentration in high school guidance counseling, an accomplishment that ultimately led her to Virginia Wesleyan.

Lina can tell you the exact date she arrived at VWC: August 6, 1988. As the Assistant Director of Residence Life, she was responsible for student discipline and community-building activities in Smithdeal and Gum Halls, which at the time were referred to as "The Far Side" due to their perceived remoteness from the rest of campus.

She was quickly promoted to Director of Residence Life and Associate Dean of Students and spent the next 10 years living and working in the residence halls, managing all student activity throughout Village I, Village II and the newly-built Village III. She relishes the fact that she is again able to work with these students.

"These are the people who I lived with, built relationships with, did student discipline with, and now they're all grown up. It's like watching your own children. I love it when they come back with their kids and I can say, 'I can tell you really great stories about your parents.'"

Lina accepted a position in 2000 as Director of Student Activities, Greek Life and Commuter Services. In addition to organizing student events, she spent a lot of time planning the construction, functionality and opening of the Jane P. Batten Student Center, which she became the director of when it officially opened its doors on February 2, 2002.

Around the time she was dedicating herself professionally to the Batten Center, Lina made another big commitment in her personal life. Over Memorial Day weekend in 2002, 10 days before the formal opening of the Batten Center, she married her husband Harry.

In 2008, Harry accepted a nuclear power job in Green Bay, Wisconsin, leaving Lina behind to wrap up her position with the Batten Center. One month before her contract was set to expire, she was approached about a remote student recruiting position. She took the job and spent the next year traveling between the Midwest and VWC. She describes this time as feeling like she had "one foot in each place," torn between the long history she shared with her Virginia Wesleyan family and creating a new life with her husband. In 2010, she made the tough decision to end her career at the College and pursue a career in Wisconsin.

Lina is not fond of moving. So she was hesitant last year when her husband told her that he wanted to take a job back in Newport News, Virginia. As luck would have it, though, around that same time she heard about an open position in the VWC alumni office. It was a great match, so she packed up and headed back to the College in November to begin her new role as the Director of Alumni Relations.

"This job drew me back because of the opportunity to work with the students that I knew when I lived in the residence halls," Lina says. "I love to hear what they've done with their lives, the places they've gone, the work that they're doing and the things that they're proud of."

In addition to cultivating relationships with former students, Lina's goal in her new position is to encourage alumni involvement with current students. She is working closely with the Alumni Association Board to develop a new strategic plan that will help boost alumni engagement and build loyalty. To Lina, this "loyalty" means talking about the College, helping to recruit future students, coming back to mentor, or providing internship opportunities. It also means, however, that alumni come back to participate in the events they enjoyed while students here, whether that means sporting events, theater productions or social gatherings like Wesleyan Wednesdays.

Above all, Lina wants to help reunite alumni with the people and places that were important to them during their time at the College, connecting them back to their VWC family.

"I want former students to reconnect. If I can help them find a way, whether it's with a team member, a sorority, a faculty member, a housekeeper…I want to be the person that helps them get back in touch. My hope is that students will get involved with their alma mater. I want them to love their school the way that I love Virginia Wesleyan, because there's just so much to love."

Are you looking to get back in touch or get more involved with the College? Reach out to Lina by phone at 757-455-2115 or send her an email at lina@vwc.edu.