An Alumnus at the Helm
As the first-ever graduate of VWC to be named Chairman of the Board of Trustees, Gary Bonnewell '79 intends to lead the way forward while staying true to the College's roots
By Leona Baker | December 10, 2013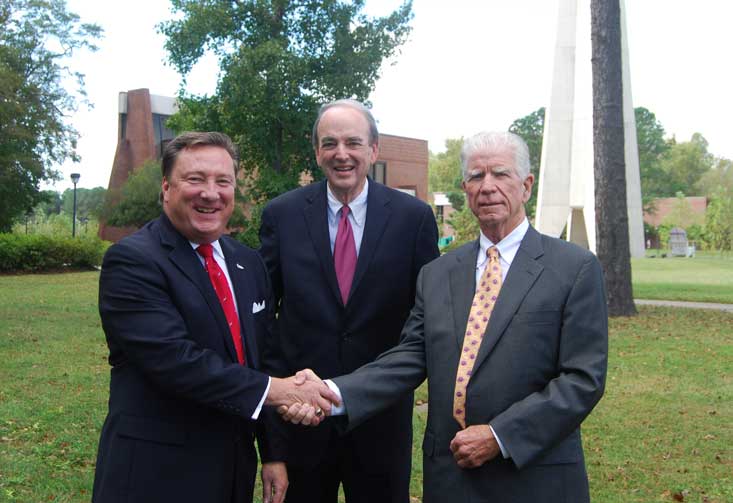 When Gary Bonnewell '79 worked for the VWC campus radio station during his junior year, there was a big sign plastered to the station wall in Boyd Hall. Student DJs, the sign warned, were only permitted to play "Evergreen" by Barbra Streisand ("Love, soft as an easy chair...") once during a shift. Any more than that was distinctly frowned upon.
Bonnewell, who in October of this year became the first alumnus in VWC history to be named chairman of the College's Board of Trustees, held many jobs while he was a student at Wesleyan—some paid, others volunteer. He was the athletic trainer for VWC sports teams. He interned in the Office of College Advancement under Vice President Emeritus James Bergdoll. He served as vice president of the Student Government Association. He helped plan the College's first Homecoming celebration.
"I tried to do everything I could while I was here," Bonnewell remembers. "I believed that the college experience wasn't just about the classroom. And I was able to do that because of the community we have here. That's the advantage of a small school."
In many ways, Bonnewell is the poster child of the VWC success story. A Norfolk native and graduate of Barry Robinson High School, he considered several area colleges before financial aid and the opportunity for work study convinced him to become a Marlin.
He'll be the first to tell you he didn't start off as a star in the classroom. But he came to VWC with an open mind and the enthusiasm to soak up everything he could during his four years. Under the mentorship of professors like Rick Hite, Bentley Anderson and Gordon Magnuson—whom Bonnewell credits with "putting the fear of God" into him when it came to his writing skills—something clicked.
"I had a very rich experience. It was truly liberal arts because, although I graduated with a degree in communication studies, I took philosophy and psychology and math and science."
From College to Career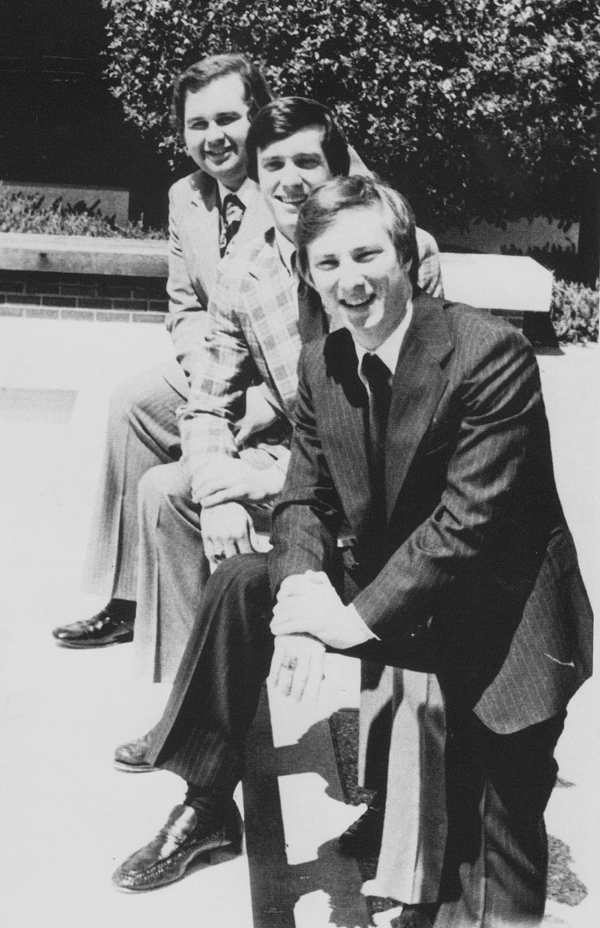 That rich experience has translated to a rich personal and professional life for Bonnewell. After Wesleyan, he went on to get a Master of Science degree from the College of Financial Planning. A licensed investment professional for more than 30 years, he is currently First Vice President, Wealth Management for Morgan Stanley Smith Barney in Newport News.
He is deeply involved in the community, having been president of the Norfolk Jaycees, president of the D'Art Center, and chairman of the International Azalea Festival (now the NATO Festival). He is also currently chairman of the Board of Trustees of Norfolk Collegiate School and is active in his church, Ghent United Methodist. He and his wife Deborah have two children, David (23) and Grace (19).
Yet, Bonnewell has not forgotten how far he has come. He recalls an impassioned conversation he had with VWC President Billy Greer when Greer first arrived at Virginia Wesleyan 22 years ago. At the time, Bonnewell was a member of the Wesleyan Alumni Council.
"This is a story that is not well known," he says. "I called Billy Greer and invited him to breakfast. He was an ambitious new president and we were very excited about that, but I wanted to communicate to him that we needed to make sure that we remember to always keep a seat open at VWC for a Gary Bonnewell, for a person like me. I always want there to be an opportunity for someone who may not test off the charts, who may not be a superstar."
It was the personal relationships—with faculty, staff and fellow students—that made the difference for Bonnewell and that are a hallmark of the Virginia Wesleyan experience.
"'Bring a spark, light a fire,' that's not a trite marketing line. That is the touchstone in my mind. I believe Virginia Wesleyan is in the transformational business. We transform people from who they are to who they want to be. And they become life-long learners. That's one of the things that this school did for me."
VWC's Future in Focus
Bonnewell's vision for Virginia Wesleyan's future is one that embraces growth while remaining true to the College's roots. A member of the Board since 1997, he has already played an instrumental role in important moments for the College including the opening of the Batten Center and both Clarke Hall and Godwin Hall. As VWC continues to set enrollment goals and elevate academic standards, he points out that these achievements should be on balance with the College's mission.
"Core beliefs, core values are core because that is what sets the North compass point," he notes. "You have to know where you're going. You have to know the 'why.' Why are we here? What makes us unique? What makes us special? Because if we know that, then the where becomes very simple. Where we're going to go is easy because we know why we exist."
Bonnewell succeeds O.L. "Butch" Everett as Chairman of the Board. Personable and down-to-earth, he is among the youngest people to fill the role. As the Board first-ever alumnus to become chairman, he feels a heightened sense of duty.
"If you disappoint," he jokes, "they might go, well, we can't have any more alumni as chairs. So there is that kind of seriousness to the position. I look at this as a great challenge, a great responsibility. I want to bring the same honor and dignity that the other chairs have. It is the Board's role to work collaboratively with staff, faculty, and administration. So we want to make sure that continues. And as we develop the goals and priorities for the school, I want to make sure that we move them along as fast as possible, that we build consensus about what we're doing so that when we make a decision, we're clear why we made it and how we want to move forward."
He cites a number of upcoming projects, including the proposed new academic building for the arts, for which the College recently received a $5 million challenge grant.
"The arts building has a lot of fire power," he says. "It does a lot of different things in addition to the obvious benefits for students and the fine arts. It brings space for faculty. It frees up space on other parts of the campus. It will be a gateway opener as far as the visual aspect of the school campus. The addition of a turf field will also be important to continue to develop our athletes. And the Social Science Lab, soon the renovated in the Village II Commons, is important for classroom space to transform and to be on the cutting edge as far as the type of learning we are providing."
He sees Virginia Wesleyan's history of changing lives and its place in the community as truly "Evergreen."
"I don't think we give ourselves enough credit about where we are, what we are doing, and what we've accomplished in just 50 years. We opened at the heart of the Vietnam Era. We survived at a time when many colleges did not. And now, the economic impact we have on this region is tremendous. If you talk to business leaders and government leaders, they get it. They love to hire Wesleyan grads because they know how to think and they know how to write. And those are skills that the work place is demanding and we're able to provide the brightest and the best."