An Enlightening Tradition
Annual Holiday Tree Lighting celebrates season and serves as memorial to Slator C. Blackiston III '76
By Stephanie Smaglo | December 4, 2012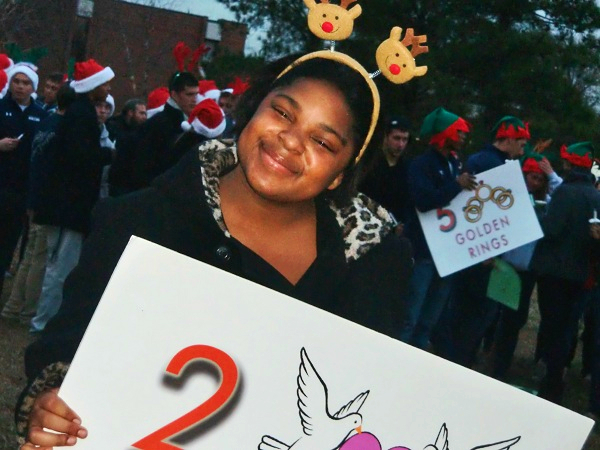 Eleven months out of the year, the little spruce that stands behind Godwin Hall looks just like any other tree, but each December it has a very special job to do. This humble tree helps kick off the Virginia Wesleyan holiday season and celebrates the life of fallen alumnus, Slator Clay Blackiston III.

Sponsored by Student Activities, the annual Holiday Tree Lighting gathers students, faculty, staff, family and friends from all walks of the VWC community. The event is held at 5 p.m. on the last day of fall semester classes, this year falling on Friday, December 7. Thanks to the recruiting efforts of the Student Government Association, the event draws a crowd of up to 500 participants.

As an introduction to the evening's festivities, President Billy Greer warmly welcomes those in attendance. His message is followed by a brief event history from College Archivist Stephen Mansfield and a blessing from Chaplain Gregory West.

Lights and decorations (including recycled ornaments from Marlins Go Green) are then positioned on the tree by volunteers from RecX and the Recreation and Leisure Studies Department. Students pass out elf hats, reindeer antlers and hot chocolate just as the crowd is organized into a large circle to start caroling. The crowd sings seasonal favorites, including an engaging version of "The Twelve Days of Christmas" that includes vibrant signs for each of the 12 days.

Adding to the fun this year is a newly-implemented tradition: All guests are asked to don their ugliest Christmas sweaters. A contest will be held to select which sweaters are the most hideous – finalists will be chosen based on a scream vote – and three winners will receive gift cards. This expressive new component is due in large part to senior SGA President Jenee Johnson, who has helped plan the event for the last two years and holds a special place in her heart for the celebration.

"This is just a really fun new spin on the tradition," Johnson said. "At the end, we want to take a campus family photo. We think of Virginia Wesleyan as our home and as our community and we really just want to emit that. The Christmas sweaters will add humor to it, but getting everyone together is what it's all about. It really means something."

While it provides a festive start to the season, the Holiday Tree Lighting is ultimately held to celebrate the life of 1976 Virginia Wesleyan graduate and Navy SEAL Lt. Slator Clay Blackiston, III. In April 1984, Blackiston's life came to a tragic end during a parachute training mission in Toulon, France. That summer, VWC students, faculty and staff planted and dedicated a 10-foot spruce to honor his memory. The original tree has since been replaced due to weather damage and student mischief, but the spirit of the original memorial lives on.

During his senior year, Blackiston was named "Sailor of the Year." He was later promoted to Warrant Officer and eventually commissioned a Lieutenant. He made several deployments to the Caribbean and Mediterranean Seas and later served two tours in Vietnam. This decorated war veteran was also a dedicated husband and father of three.

While at the College, Blackiston majored in Spanish and French and was the first student to be awarded honors for both. Because of his involvement with the languages, the Holiday Tree Lighting carries a strong influence from the Foreign Languages and Literatures Department. Each year, the department orchestrates beautiful renditions of "Silent Night" and "O Holy Night," splitting into groups and performing the seasonal songs in different languages.

"My favorite part is when we all sing 'Silent Night,'" said Jennifer Mitchell, Director of Student Activities. "That's a really special part because we pass out candles in the very beginning. To see the campus community quiet, everyone holding their candles and singing, it's really nice."

"There's a real sentimental value," agreed Jenee Johnson. "When we light candles and dedicate the night to a fellow Marlin who has passed away."

When the tree lighting activities wind down, guests head over to Boyd Dining Center for a special holiday dinner. Discussions about exams and plans for winter break ensue, but back over at Godwin Hall the little spruce remains, shining brightly in salute to Lt. Slator Clay Blackiston, III. The tree has successfully carried out its mission for the year and will continue the meaningful tradition for years to come.