Ask Citizen Bob
VWC mascot Bob Marlin dons a civic hat and bowtie to reel in millennials for voter registration drive
Q&A | August 23, 2013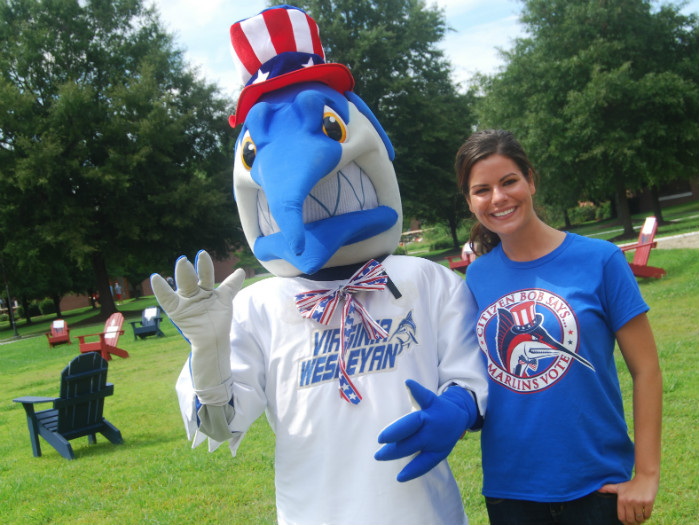 Virginia Wesleyan welcomed the Class of 2017 to campus Wednesday night with live music, carnival games, food and Maui Wowi smoothies. But there was something else in the air that night—a sense of civic duty. Adorned with red, white and blue decorations, the Bray Village Campus Lawn took on a patriotic feel as the Campus Election Engagement Committee hosted its first-ever voter registration drive as part of Scene II Orientation. Committee member Meg Groah '14 took some time out with VWC mascot Bob Marlin—aka Citizen Bob—who donned his most American-themed duds to help encourage new students to make it a habit to vote.

Meg asks: Bob, of the 70+ organizations VWC has to offer, what made you decide to get involved with the Campus Election Engagement Committee?
Citizen Bob says: I am involved with each VWC organization in one way or another, but the Campus Election Engagement Committee is one I hold very dear to my fins. You see, the first time I voted I felt like a real fish out of water. I was really confused about the registration process, especially the in-state vs. out-of-state residency. I also felt like my one vote wouldn't really make a difference. Why did they need me? Boy, was I misinformed. The Campus Election Engagement Committee is a team of students, faculty and staff who have come together with the sole purpose of educating young voters. With a population of 44 million, millennials are the largest and most diverse generation in history, representing more than one-fifth of the electorate. Deciding our leaders means deciding our future.

Meg asks: Tell us about the voter registration drive held on campus tonight.
Citizen Bob says: It went swimmingly! This was the first voter registration drive held by the Committee during Scene II Orientation/Freshman Festival. We are planning to make it an annual tradition. Eighty six students filled out registration forms tonight and should receive their voter card within 30 days. If students didn't get a chance to come out tonight, they can stop by the Office of Community Service in the Batten Center (next to the post office) to fill out the form anytime between now and August 29. They can also visit the Committee's Blackboard page to register online. How easy is that? We want to make it as quick and easy as possible for students to make it a habit to vote.

Meg asks: Speaking of habits, Charles Duhigg's bestselling book, The Power of Habit, was required reading for the Class of 2017. Did you read it?
Citizen Bob says: I did! I think the book's message fits perfectly into the Committee's goal of developing lifelong habits of participation in the electoral process. One of my dear friends, Committee member Leslie Caughell—who is also an assistant professor of political science and advisor to the Political Science Association—believes that "cultivating the civic 'habit' of voting is essential to a liberal arts education." I couldn't agree more. This is an excellent time for VWC as an institution to begin providing students with the opportunity to register to vote at orientation. Hopefully students will take the bait!

Meg asks: What other events will the Committee hold during this academic year?
Citizen Bob says: The Committee will be hosting two big events this fall. "Make It a Habit to Vote" will be held in the Grille on September 19 at 12 p.m. and will aim to answer any questions students may have about Election Day. There will be six stations offering information on voter ID requirements, absentee ballot information and deadlines, media sources, and more. "Make It A Habit To Know" will take place in the Pearce Hospitality Suite on October 24 at 11 a.m. Under the guidance of moderator Eric Mazur (Gloria and David Furman Professor of Judaic Studies), a five-member faculty panel will discuss the issues that the future governor of Virginia will face, including jobs/economy, education, energy, transportation, women's rights, veterans, and healthcare. We are also planning events for the week before elections. Check out VWC's online campus events calendar for more information.

Meg asks: How can students get involved with the Campus Election Engagement Committee?
Citizen Bob says: Marlins interested in volunteering for the Committee can visit Diane Hotaling in the Office of Community Service. They can also call her at 757.455.3216 or send her an email at dhotaling@vwc.edu.

About the Campus Election Engagement Committee
In 2012, VWC received a $1,000 grant from the national Campus Engagement Election Project to help promote student awareness, voter registration and volunteer opportunities throughout election season. From here, the Campus Election Engagement Committee and "Citizen Bob" were born. Throughout the 2012-2013 academic year, the Committee held voter registration drives, debate parties, and panel discussions examining voter disenfranchisement and issues of religion in various races across the country. In recognition of its campus-wide efforts, VWC was presented with the $500 Democracy Cup Award in February 2013 at the Active Citizens Conference in Williamsburg. Funds from this award will continue to support efforts of the Committee during the 2013-2014 academic year. The Citizen Bob logo and imagery were created by Virginia Wesleyan alumnus Franklin (C.J) Salyers '13. This version of the VWC mascot is a reminder to students that, indeed, Marlins vote!