Wesleyan Professor awarded 2009 Mednick Fellowship from VFIC
Dr. Paul Resslar continues in-depth research on a new tropical plant species he discovered in Hawaii.
By Megan Z. Shearin | July 22, 2009
Norfolk/Virginia Beach, Va. – The Office of Academic Affairs at Virginia Wesleyan College announces that Professor of Biology Dr. Paul Resslar is the recipient of a 2009 Mednick Memorial Fellowship from theVirginia Foundation for Independent Colleges (VFIC) for his project on "The Reproductive Biology of Caladium Bicolor in Trinidad."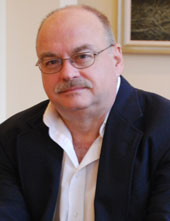 This annual award worth $2,000 allows Resslar to initiate new research on the tropical plant Caladium bicolor, commonly known as Elephant Ears, Heart of Jesus, or Angel Wings. Resslar hopes for new discoveries on inflorescence, the rate of sexual reproduction of caladia and the perplexing dispersal of infructescences (clusters of fruit). In addition, specimens of Caladium bicolor will be collected for use in studies seeking to understand the genetic controls of the foliar patterns of this species.
"Dr. Paul Resslar's work is significant because it is in an area of the world in which Virginia Wesleyan faculty and students have conducted research and are continuing to build important collaborations," said Vice President for Academic Affairs and Kenneth R. Perry Dean of the College Dr. Timothy O'Rourke.
Resslar joined the faculty at Virginia Wesleyan in the fall of 1983. He received his Ph.D. and M.S. from North Carolina State University, and his B.S. from West Virginia Wesleyan University. During the last two decades he has taught courses on botany, plant taxonomy, plant morphology, evolution and introductory biology. He has developed and managed Virginia Wesleyan's greenhouse and has published regularly in the fields of botany, plant breeding, and cytogenetics. From 2004-2007, Resslar was recognized for his work, teaching, and scholarship, being named Batten Professor of Biology.
The Maurice L. Mednick Memorial was created in 1967 in honor of a young Norfolk industrialist who died from accidental causes and whose family and business associates wished to perpetuate his name by establishing a memorial that would emphasize his and the donors' strong interest in higher education. Administration of the Mednick Memorial Fund is vested in the Virginia Foundation for Independent Colleges to encourage the professional development of college professors and improve their academic competence through fellowships for research and advanced study. Since 1975, approximately 500 research grants have been awarded to colleges.
Founded in 1952, the Virginia Foundation for Independent Colleges is a nonprofit fund-raising partnership supporting the programs and students of 15 leading private colleges in the Commonwealth: Bridgewater College, Emory & Henry College, Hampden-Sydney College, Hollins University, Lynchburg College, Mary Baldwin College, Marymount University, Randolph College, Randolph-Macon College, Roanoke College, Shenandoah University, Sweet Briar College, University of Richmond, Virginia Wesleyan College, and Washington & Lee University.
###