Wesleyan Professor presents research at International Conference
Dr. Victor Townsend, biologist and specialist on the natural history and taxonomy of harvestmen of Central America and the Caribbean, is the only invited presenter and scientist from the United States.
By Megan Z. Shearin | September 17, 2009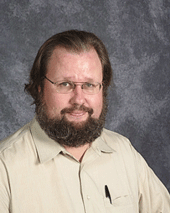 Norfolk/ Virginia Beach, Va. – Virginia Wesleyan College's Batten Associate Professor and Program Coordinator of Biology, Dr. Victor Townsend, is presenting two papers at the "International Seminar on Arachnology, Panama 2009," in Panama City on Saturday, Sept. 19.
From September 21-24, scientists from Panama, Costa Rica, Brazil, Cuba, Uruguay and Venezuela will present original research papers and reviews of the biology of spiders, scorpions, mites, ticks and other animals from the class Arachnida. Townsend, the only scientist invited from the United States, is presenting papers on the systematics and ecology of harvestmen or Opiliones (more commonly known in the U.S. as daddy long-legs).
"The conference is a wonderful opportunity to share current information with scientists who are examining species of ecological, economic or medical significance in Central America," said Townsend. "It is a valuable workshop/think tank and excellent networking opportunity."
The National Secretary of Sciences, Technology and Innovation of Panama (SENACYT) is fully funding the conference and is supporting Townsend's participation in the week-long event.
Townsend has been teaching at Virginia Wesleyan for 10 years. He is currently planning a Winter Session trip to Costa Rica for January 2011 and a field study of harvestmen in the rainforests of Costa Rica and Nicaragua during the summer of 2010 for Virginia Wesleyan students.
Townsend earned his Ph.D. and M.S. from the University of Louisiana Lafayette and his B.S. from Old Dominion University. He has published 40 research articles in scientific journals and co-authored nearly 50 contributed papers at state, regional and national conferences. Since 2000, he has mentored more than 30 students conducting undergraduate research projects at Virginia Wesleyan and was the keynote speaker at the Louisiana Academy of Sciences Annual Conference in the spring of 2008.
###