Birdsongs Make $1 Million Gift for Turf Field
Birdsong Corporation/George and Sue Birdsong offer generous challenge gift for lacrosse/field hockey synthetic turf field at Virginia Wesleyan College
News Release | January 15, 2014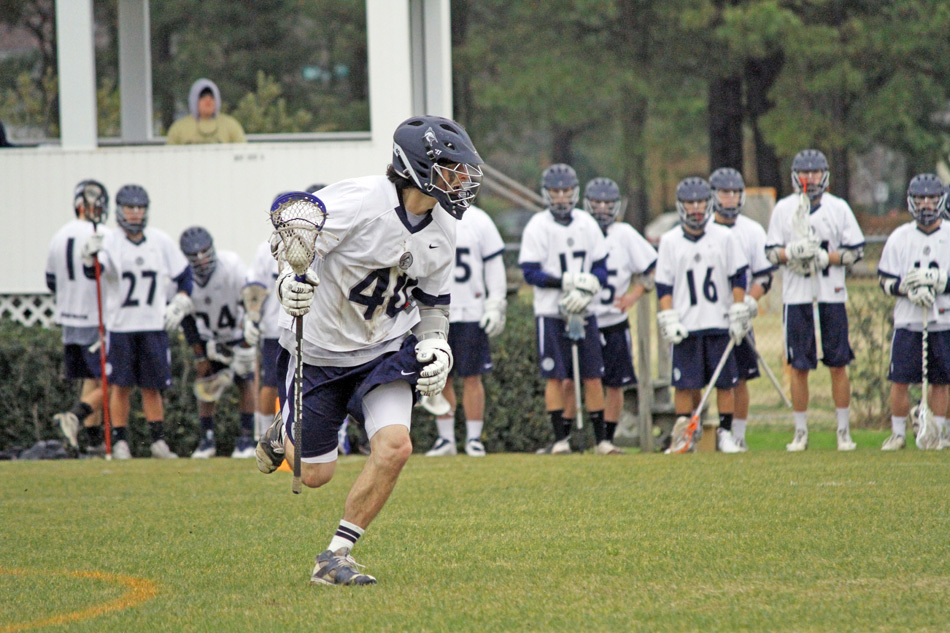 Birdsong Corporation and George and Sue Birdsong have made a gift of $1,000,000 to Virginia Wesleyan College for the Outdoor Athletic Complex's synthetic turf field. The Birdsong Corporation and the Birdsong family have been generous supporters of Virginia Wesleyan throughout the College's history.
"The Birdsongs have provided tremendous leadership to the College by supporting some of our most important initiatives," said Virginia Wesleyan President Billy Greer. "This enormously generous gift will support more than 150 student athletes playing men's and women's lacrosse and field hockey and will support all of our students who desire to play a variety of intramural sports."
The NCAA Division III athletics programs at VWC are a vital part of the college experience for the student-athletes who represent nearly 30 percent of the student population. Virginia Wesleyan's membership in the vibrant, competitive and well respected Old Dominion Athletic Conference (ODAC) helps attract prospective students who wish to compete in varsity sports while pursuing their education.
This new synthetic turf field will significantly enhance the College's competitiveness in attracting these student-athletes to VWC and will provide a state-of-the-art venue for training and hosting athletic competitions.
In the same spirit of competitiveness and teamwork so vital to successful athletics, the Birdsongs' generous contribution is being offered as a one-to-one challenge gift. The Birdsong family is challenging other donors to commit an additional one million dollars for this premier outdoor athletic facility by December 31, 2015.
"The Birdsong Corporation and Sue and I recognize the importance of athletics to building camaraderie, school spirit, and loyalty among students and alumni," said George Birdsong. "We hope having this synthetic turf field at VWC will bring to outdoor athletics the same enthusiasm and school spirit that the Batten Center has accomplished for indoor athletics."
Like the recent gift from the Goode family for a new academic building for the arts, this gift comes at a time when VWC is immersed in a strategic planning process that is setting the direction for the future of the College. The Arts Building and the Outdoor Athletic Complex will bring a greater sense of arrival and presence to the entrance of the College and will address the overall modernization and beautification of the campus.
For more information about this project, Virginia Wesleyan College and our strategic initiatives, contact Mita Vail, Vice President for College Advancement at mvail@vwc.edu or at 757.455.3205.
About the Birdsong Corporation
Birdsong Corporation is the largest privately-owned peanut sheller in the United States with operations in all peanut growing regions. Birdsong Corporation's primary operation division, Birdsong Peanuts, shells raw peanuts, purchased from peanut farmers, and markets them to manufacturers of peanut butter, candy and snack nuts throughout the world. Birdsong Peanuts, which originally began as a storage company, was founded in 1914.
About the Birdsongs
Sue Birdsong attended Longwood College and received her degree from Pan-American Business School in Richmond. She worked for Mills Godwin in his law office in Suffolk and while he served as Lt. Governor and Speaker Pro-Tem of the Senate for the State of Virginia. She also served on the Nansemond-Suffolk Academy Board for 10 years and currently serves on the Virginia Beach Westminster Canterbury Foundation Board.
George Birdsong received his undergraduate degree from Washington and Lee University and his law degree from University of Virginia. He is the CEO of Birdsong Corporation which is based in Suffolk, Virginia. Mr. Birdsong has been an active member in civic and community affairs. Some of the boards on which he has served include the Virginia Foundation for Independent Colleges, Suffolk Redevelopment and Housing Authority, Louise Obici Memorial Hospital Foundation, and Hampton Roads United Way. He received the Distinguished Service Award from Suffolk Jaycees, the Humanitarian Award from the Tidewater Chapter NCCJ and was recognized as 1st Citizen of the City of Suffolk, Virginia.
George and Sue Birdsong's interest in Virginia Wesleyan stems from their United Methodist faith. They are active members of the Main Street United Methodist Church in Suffolk, Virginia. Mr. Birdsong has been a Trustee of Virginia Wesleyan College since 1989.
"Our family has supported Virginia Wesleyan College from its earliest days. We're pleased to continue our support here at Virginia Wesleyan," said Mr. Birdsong.