Bold Canvases, Bright Future
Katie Bennett '13 combines her love of science and art on a microscopic scale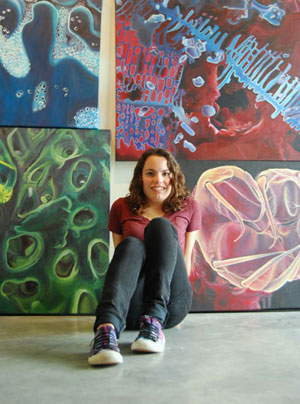 By Lovely Edwards | April 26, 2012
The itsy-bitsy spider is not so small when looked upon by Katie Bennett '13 during the wee hours of the morning in the VWC art studio. Typical days for the dual major in biology and art include morning classes, six-mile afternoon runs, evening classes, and plenty of time spent using both a state-of-the-art scanning electron microscope and a paintbrush.
"I would work on my art for the senior art show from around 7 p.m. to 2 a.m., go to class after at 9 a.m. and be back in the art studio after my 11 o'clock class to do it all over again," she says.
Honor societies, cross country, indoor and outdoor track keep Bennett extremely busy, so she took the semester off from competing to focus on her paintings. Her artwork is based on black and white micrographs taken with the recently installed scanning electron microscope in Blocker Hall.
Minute details, too small to be seen by the naked eye, are greatly enlarged by the time they arrive on Bennett's canvas. The organs of an arachnid become mysterious organic shapes in swathes of rosy pink. Others are even more abstract, bold textures in royal blue and green.
"I'm a fan of really bright colors, and the different textures and surfaces of the micrographs inspire me when choosing the color variations for my artwork," she says.
Destined to be an artist, Bennett spent much of her childhood in art exhibitions and galleries with her parents and identical twin sister, all of whom happen to be artists.
"I've always been inspired to do artwork, and the beauty of organisms has always fascinated me," she remembers, "so I've incorporate living biology into my art."
The aspiring medical illustrator is considering graduate programs in California and Canada while taking full advantage of her liberal arts education.
"As far as combining the two majors, my faculty advisers have been very flexible and informative, making sure I have everything I need and that I accomplish everything I need to accomplish. I wouldn't have gotten that any place else."
Excited at the prospect of collecting her own specimens and geared up for fall semester, Bennett will be taking the scanning electron microscopy course with Dr. Vic Townsend and continuing her research of the reproductive organs of arachnids known as "harvestmen" while pursuing her artwork.
Still inspired and proactive in her love for science and art, Bennett has entered her paintings into a juried art exhibition in Ohio, sold pieces from the art show and has hopes of publishing her research findings.
"These images are images of structures that no one else has ever seen, which is why I find them so intriguing, they see the harvestmen themselves, but they don't know what it looks like 13,000 times magnified."
The variety of shapes and textures within the images of the paintings reflect the variations in Bennett's interest in science and art, as she paints her inspiration in vivid shades.
"I feel like these paintings are a part of me-my love for science and my love for art combined in color. They are little representations of me," she says. "I want people to appreciate the art as itself, the organisms and their tiny structures.to want to look at them in a different way and also to appreciate the technology used to capture these images."
Bennett uses her website to keep track of her artwork and research and looks forward to adding the numerous images of future findings to her collection. Several of her pieces were recently on display in Neil Britton Gallery on campus as part of the annual Student Art Exhibition. A research project related to her work is among those that will be featured in the annual Undergraduate Research Symposium, April 30-May 4.