"Bowled" Over By the Many Uses
Wesleyan professors have many uses for the handmade bowls they've purchased to support the Empty Bowls Charity Dinner over the years.
By Megan Z. Shearin | March 3, 2010
What do salsa, cereal, soup, salad, cat water and chili have in common? All have filled the handmade bowls purchased by Wesleyan faculty members at the Empty Bowls Charity Dinner for the past 12 years.12th annual Empty Bowls Charity Dinner: 5:30 p.m. to 8:30 p.m. on Friday, March 12. Tickets are $20 in advance, $25 at the door and can be purchased in the College's Scribner Bookstore.
In partnership with the Ceramic Designers Association, this charity event raises both money and awareness of hunger in the Hampton Roads area. Attendees select a handmade bowl in the "bowl room," enjoy soups provided by Virginia Wesleyan Food Services, and a silent auction with live entertainment.
Several Wesleyan professors share their love of the annual event. They've made bowls. Eaten from the bowls. Given them away as gifts. Each enjoys their many uses, and cherishes the artistic creations, which come in all shapes, sizes and colors.
Mr. Phil Guilfoyle, professor of art and ceramics and sculpture studios manager
"I have so many bowls. Some I have collected, some I have made. Some are trades or gifts from friends or students, some are displayed. Some used for salsa. When you love a handmade item, it often serves a personal purpose that leads to a relationship with that specific piece. Having and using handmade things in everyday life makes us, in some way, feel more human in this technology filled, plastic world. What I bring home from Empty Bowls now is good feelings."
Dr. Linda Ferguson, professor of management/business/economics and director of strategic planning

"My grand total is eight bowls still in my possession. I began buying two tickets some years ago because I couldn't make up my mind and selected two bowls per year. I use a bowl made by Phil Guilfoyle for cereal each morning. I've given a couple away as gifts, used one as a cat water bowl, and use one just for chili. Each one is special whether for its use or its creator or both."
Dr. Kathy Merlock Jackson, professor of communications

"I enjoy looking at bowls of various shapes, sizes, hues, and designs and choosing the perfect one. One year I got a flat green bowl with a dog's paw print on it for my son, who loves dogs. Another bowl, done in the colors of the earth and elegantly shaped, accents the table in the entrance way of my house. And then there's the wavy ivory bowl, actually more of a plate, with interesting etchings and light touches of pink and green, that I keep on my bookshelf in my office at home. Each bowl is very different, reflective of my sense of aesthetics at the time. One can never have too many bowls."
Ms. Ginger Ferris, assistant professor of education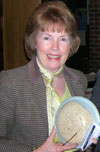 "I have a group of friends who try to go each year. We enjoy collecting distinctive bowls. I use mine for soup or salad and often tell my guests at dinner about Empty Bowls and invite them to join us the following year. As I use them, the bowls remind of the event, which is a lovely coming together of folks from Virginia Wesleyan and the community to share a common goal and benefit from the creativity of local artists. The pottery reminds me of good people in the world who are making a positive difference."