Caughell's "Political Battle of the Sexes"
New book by professor Leslie Caughell, titled "Political Battle of the Sexes," explores gender gaps in policy preferences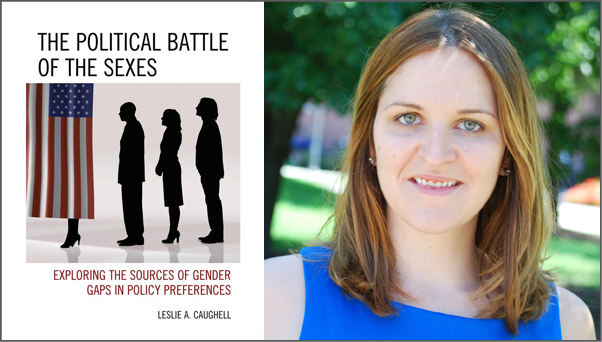 News Release | May 20, 2016
"The link between sex and politics has a long and nuanced history," writes Virginia Wesleyan College Assistant Professor of Political Science Leslie Caughell in the introduction to her recently released book, The Political Battle of the Sexes: Exploring the Sources of Gender Gaps in Policy Preferences (Lexington Books, 2016).
As an unprecedentedly contentious election season heats up and women's and gender issues remain front and center in political debate, Caughell offers new insight into the overall role gender plays in political preferences and how those preferences translate to the ballot box.
Caughell's work provides the first comprehensive look at political gender gaps on a range of policy issues from the 1980s to the present and provides a theoretical framework for explaining them. Some observable trends among women voters include:
Tendency to vote Democratic
Less punitive towards crime
More liberal on social policies
More traditional on moral values
Less supportive of military intervention
More supportive of social programs
"These gaps are significant," says Caughell, "because they create gender gaps in vote choice and those gender gaps shape which candidates win elections." Indeed women have played a deciding role in most major U.S. elections in recent memory. This is not only because they turn up to the polls in consistently higher numbers than men but because they are having a profound effect on policy in general—a fact that is not lost on political strategists who are keen to court the female vote.
Though there is no one cause for gender differences in policy preferences, factors include biology, socialization, values, and political knowledge, and often a combination of two or more of these. Caughell's book looks most closely at the causes of gender gaps in foreign policy and social issues, two policy domains where gender gaps continue to increase. It also introduces a new way of conceptualizing biological factors specifically based on emerging research.
At Virginia Wesleyan College, Caughell teaches courses in American politics and political theory, among them "The Presidency and the American Political System," "Women in American Politics," "The 1%: Politics of Inequality," and "Politics in the Media." Her research focuses on the complex relationship between public opinion and political communication.
The Political Battle of the Sexes: Exploring the Sources of Gender Gaps in Policy Preferences is available for purchase at Amazon and on the Rowman & Littlefield website.