Celebrating the Women of Wesleyan
During the College's early years a small group of women organized to provide support until a sustainable base of alumni could be established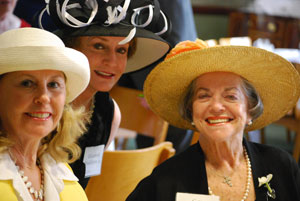 By Staff | June 14, 2012
The Women of Wesleyan, the determined group that has provided invaluable support for the College from its early days, held its first luncheon on March 2, 1967. Their first gathering included coffee, tea, cakes and plenty of resolve to create awareness and support for the newly established Virginia Wesleyan College. On May 24, 2012, these persevering women celebrated nearly a half century of service to VWC with an afternoon tea held in Schafer Room of the Boyd Dining Center.
For the group's final formal celebration, attendees came adorned in hats reminiscent of their 1960s founders. Seated at tables with floral teapot centerpieces, they enjoyed tea, sandwiches and cookies while sharing memories of the early years-from the first graduating class at Virginia Wesleyan to the dedication and determination it took to get them there. The event was also a time to present the group's last formal donation to the College and for President Billy Greer to read a proclamation from the Board of Trustees to commemorate their numerous contributions and dedicated service to Virginia Wesleyan.
Over the years, the Women of Wesleyan have devoted countless hours and donations to the College for needs as diverse as security officer rain gear, the Barclay Sheaks Gallery and the Women of Wesleyan Greenhouse. Students have benefited directly from numerous endowed scholarships which they have established and from their support through Senior Dinners and the Annual Fund for Academic Excellence. The women have pursued all of their efforts with joy, faithfulness and affection for the College.
"They are a remarkable group who have enjoyed having fun, enjoyed the deep and abiding friendships they shared, and enjoyed raising hundreds of thousands of dollars for the College," said Mita Vail, Vice President for Advancement. "The organization may be sun-setting, but the women who are part of it will remain friends and members of our VWC family for years to come."
The current Women of Wesleyan President Carol Everett refers to the group as the "pioneer women." She notes that another important role was to serve as honorary alumni until the College could establish a significant core of graduates.
"After 45 years of service to Virginia Wesleyan, we feel that our mission has been accomplished," says Everett. "Individually, each one of us will continue to support the College, however, as an organization, we feel it is now time to pass the torch on to the growing number of VWC alumni and encourage them to support their alma mater."