Channeling Randy Shull: Q&A with the Artist
Neil Britton Art Gallery's featured artist gives a personal look into his creative process and the inspiration behind his latest exhibit
By Stephanie Smaglo | February 8, 2012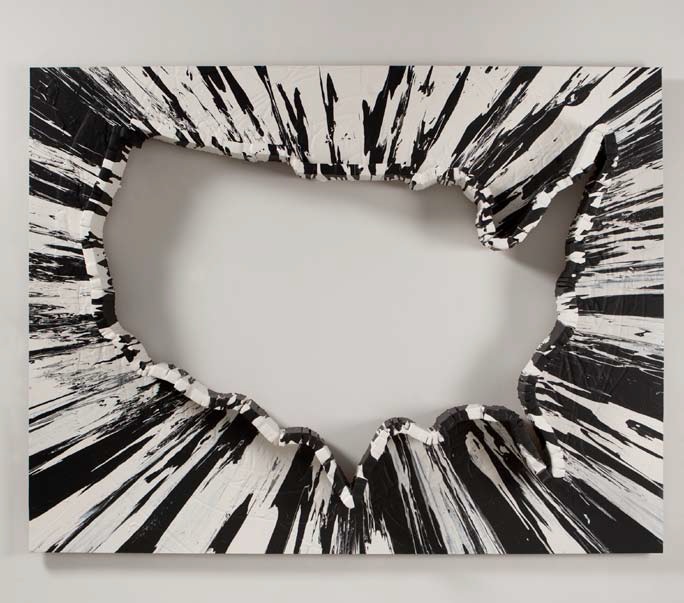 Randy Shull's exhibit "Channeling the USA," on display in the Neil Britton Art Gallery through April 5, focuses on one of the most recognizable shapes in the world: the outlining border of the United States. Through a variety of mediums, Shull addresses the role the USA plays on a global level, his larger-than-life work visually depicting a country filled with rich history, divided economics, corrupt politics and undeniable power. The idea for his exhibition began with one of its smallest pieces, Land of Lincoln, a colorful, graffiti-esque homage to the USA made with acrylic and carved wood. His relationship with the country's border grew more complex with his next piece, Simultaneous Pattern, a black and white acrylic made by spinning a 6' x 8' wood panel on a potter's wheel. Other elements used in Shull's collection include found objects, cowhide, steel, duct tape, and even the use of an electrical coil in Hot Head, a piece requiring 220 volts of electricity.

In a private showing of the exhibit, Shull describes the motivation for his work, gives insight into his process, and reveals the unexpected place he hopes viewers might find themselves when they leave the show.

Thank you for this exclusive look at your work. What was your inspiration for this project?
It's hard to distill it into one defining moment. It came over a period of time when I was traveling back and forth from Mexico to the United States. I was working and living in Mexico for long periods of time and seeing how other artists in Mexico responded, through their art, to being Mexican. I can never be Mexican, so I can't necessarily have my art be about Mexico in the same way they can. So I got to thinking, I'm an American and that's how I'm always treated here, as an American. What about my work reflects being an American? I started to ask that question and that's what really led to thinking about the shape of the USA and how that shape really resonates as something we're attached to, something that we identify with. But what is that? That's what this whole thing is about. What is the identity of that?

Your pieces are quite large and they contain many different elements. Do you have a process for your work?
In terms of chronology, Land of Lincoln was one of the first pieces and it really led to Simultaneous Pattern in terms of the border. The fact that [Simultaneous Pattern] is three-dimensional, it sticks away from the wall, is a way to talk about the border. The first thing I did was pour orange paint on it because when you're in the airport you hear about the orange alert. I got to thinking, what is the orange alert? I put the orange paint around the edge because that's what we're all faced with when we're getting ready to leave the border. You don't see it anymore, but I know it's there. When I did that, I actually laid canvas underneath it, which isn't in the show, but I have a couple paintings that are just drippings from this piece. I worked on this for probably six weeks. I felt like it always had the positive and negative space, but it needed something coming out of the negative space, or going in to the negative space. It needed some direction between the two. So that's when I hit on the idea of spinners that would create this energy. In some ways it was about process, but I was real specific about what I wanted that process to say. I wanted to say something that was not definable, if that makes sense. To me, what's not definable is: what's the inside, what's the outside, where is the energy coming from, where is it going? There's a lot that's undefinable. And there's a lot that is definable.

How long did it take to complete this thematic series and when did you know you had finished?
It took about 18 months and I don't think I'm done. I'm still working on some pieces and really thinking about some things. For example, Hot Head is really a great image, but it's not being used for what it was designed for – to heat up at 500 degrees. None of the galleries will let me plug it in because there's a danger factor. So I'm asking myself how I can make this be a piece that tells a story of what I want to tell. Maybe there needs to be a video and I'll plug it in and invite people to come and cook hot dogs on it or something. I've plugged it in at parties. It plugs right in at 220 [volts]. It's extremely dangerous.

What are you hoping to communicate to your viewers through your "Channeling the USA" show?
I hope that when viewers look at the weather map of the United States that they don't always just see the weather in it. Maybe they'll see the shape emanating out of it. When they see the shape of the US on the back of a truck, maybe it means more in some way. Cindy Sherman's work is a good example of this for me. I walked out of a Cindy Sherman exhibition at the Museum of Modern Art and after spending an hour in there suddenly everyone on the street looked like a Cindy Sherman picture. I want people to leave and be in The Twilight Zone. I want viewers to ask their own questions. What is it about this country?

Randy Shull's "Channeling the USA," curated by former editor of Art in America magazine Janet Koplos, will be on display through April 5 in the Neil Britton Art Gallery inside the Hofheimer Library. Shull is highly acclaimed for his rich, sensual use of color and space, whether as painter, colorist, sculptor or designer of furniture, landscapes, buildings and homes. Shull has received many accolades, including a North Carolina Arts Council Fellowship, an NEA Southern Arts Federation grant, and a Master Residency at Oregon School of Arts & Crafts. His works are displayed in numerous collections including prestigious museums such as the High, the Renwick and the Mint. The Neil Britton Art Gallery is free and open to the public. Operating hours: Saturday-Sunday 12-5 p.m.; Monday-Thursday 9 a.m.- 8 p.m.; Friday 9 a.m. - 5 p.m. For further information, contact John Rudel, Curator of Exhibitions and Associate Professor of Art at Virginia Wesleyan College, at 757-455-3257 or jrudel@vwc.edu.