Classics Alumna Gets Flying Start
Christine Dawe '12 beats her fear of flight in order to pursue a dream career in the archaeology field
By Stephanie Smaglo | August 12, 2013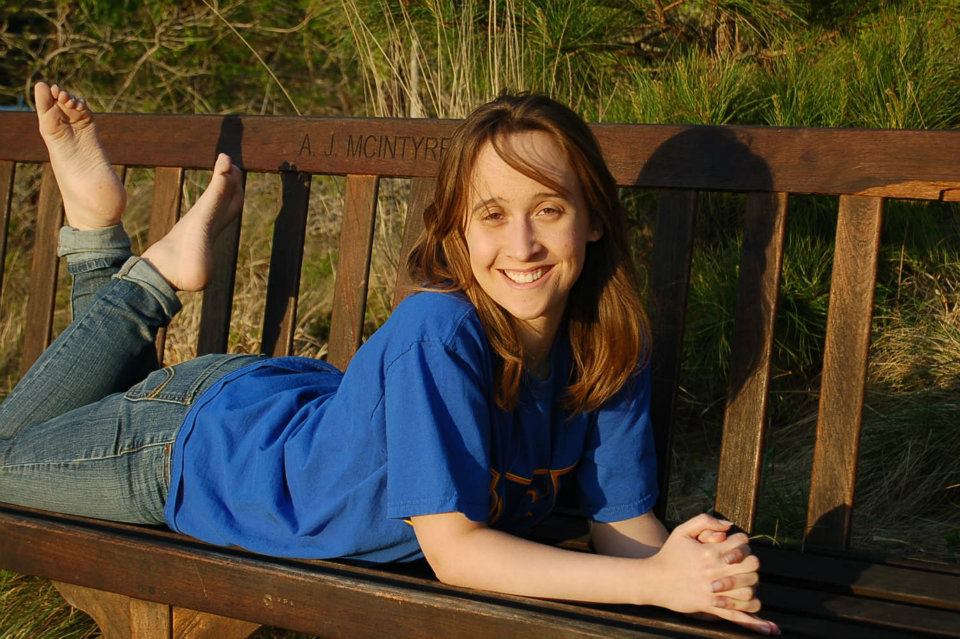 The sound of luggage rattling. Distressed facial expressions from other passengers. Muted, but frantic instructions for all seat backs and tray tables to be placed in their upright and locked positions. It was enough to trigger a paralyzing phobia in Christine Dawe '12. A debilitating fear of flying nearly prevented the young history enthusiast from pursuing her dream career in the realm of archaeology.
With an unwavering desire to succeed and help from the College's counseling office, the VWC Classical studies graduate overcame her anxieties and is now preparing to begin an archaeology master's program at the College of William & Mary.
Dawe came to Virginia Wesleyan College as a history major and Classical studies minor in the fall of 2008. During her junior year, she swapped focuses, ultimately earning her degree in Classics.
"Classics has always been one of my favorite areas of history," she says. "In seventh grade we had units on mythology and I loved them. I didn't realize when I came to VWC that Classical studies was a degree you could specialize in. I was glad to find out that it was."
Dawe is particularly fascinated by women's history and mythology, the area on which she chose to focus her senior theses. Under the guidance of her faculty mentor, Associate Professor of Classics Ben Haller, she wrote her paper on "Amazonian Gender in Art and Society: A Mythical Bodily Dichotomy Explored Through Ancient Art, Myth, and the Role of the Hetairai."
"Women in Classical studies is a new area of study," she says. "It really only started in the 1990s, so there's a lot of research and questions that haven't even been brought up yet. I love the idea of combining those two passions into one, in a way that hasn't already been studied or that has 12 books written about it."
As a student, Dawe was a member of the Phi Sigma Sigma sorority, the national history honor society Phi Alpha Theta and the Classical honor society Eta Sigma Phi. In 2011, she and fellow Classics student Joseph Craig '12 were presented with the 2011 Classical Studies Award.
"Throughout her time with us as a student," says Haller, "She was nothing short of exemplary, turning in every assignment impeccably executed, encouraging other students to excel, and writing one of the best senior theses I have ever seen."
At many points throughout her VWC career Dawe considered the possibility of attending a summer archaeology program, but her fear of flying continued to hold her back. It was the chance to go on a two-week Winter Session trip to Rome that finally pushed her to face her phobia. She spent two years doing different types of exposure therapy with VWC's Counseling Services office, including many trips to the airport.
"I knew I had to do something," she says. "I wasn't going to miss out the trip to Rome because I couldn't fly. I can't sing the praises of the counseling office enough."
She was able to make the trip her senior year—visiting the Coliseum and the Vatican along the way—and her ability to overcome her fears has since changed her life. This month she will begin working toward her master's degree in historical archaeology at William & Mary.
In the graduate program, Dawe will take courses in cultural theory, area studies, historiography, and methodology, with a special emphasis on comparative colonialism, the African diaspora, Native America, and the archaeology of Colonial America and the Caribbean. She hopes to have the opportunity to participate in an archaeological dig in Williamsburg and to work as a teacher's assistant for William & Mary's undergraduate Classics program. She'd eventually like to teach Classics and archaeology at the high school or college level.
"Archaeology is definitely getting more traction, especially amongst female students," she says. "For a long time, history, Classics and archaeology have kind of been a 'boys club,' but that's changing. I would really love to teach and to show female students that, hey, this is something that's available to everybody. It's something that's really important to me."
In her spare time, of which she has very little, Dawe enjoys reading and creative writing. She's currently reinterpreting a story about the mythological creature the Minotaur, reworking it into a more futuristic setting.
"I like taking Classical notions and twisting them around into modern interpretations," she says. "One of my life goals is to have something published, especially a work of fiction. Hopefully one day that will happen."
In a classic example of Marlin spirit, this alumna will surely be capable of accomplishing anything she sets her mind to.