Convocation Calls Habits to Mind
Sept. 12 event to launch academic year with keynote speaker Craig Wansink and Alumni Awards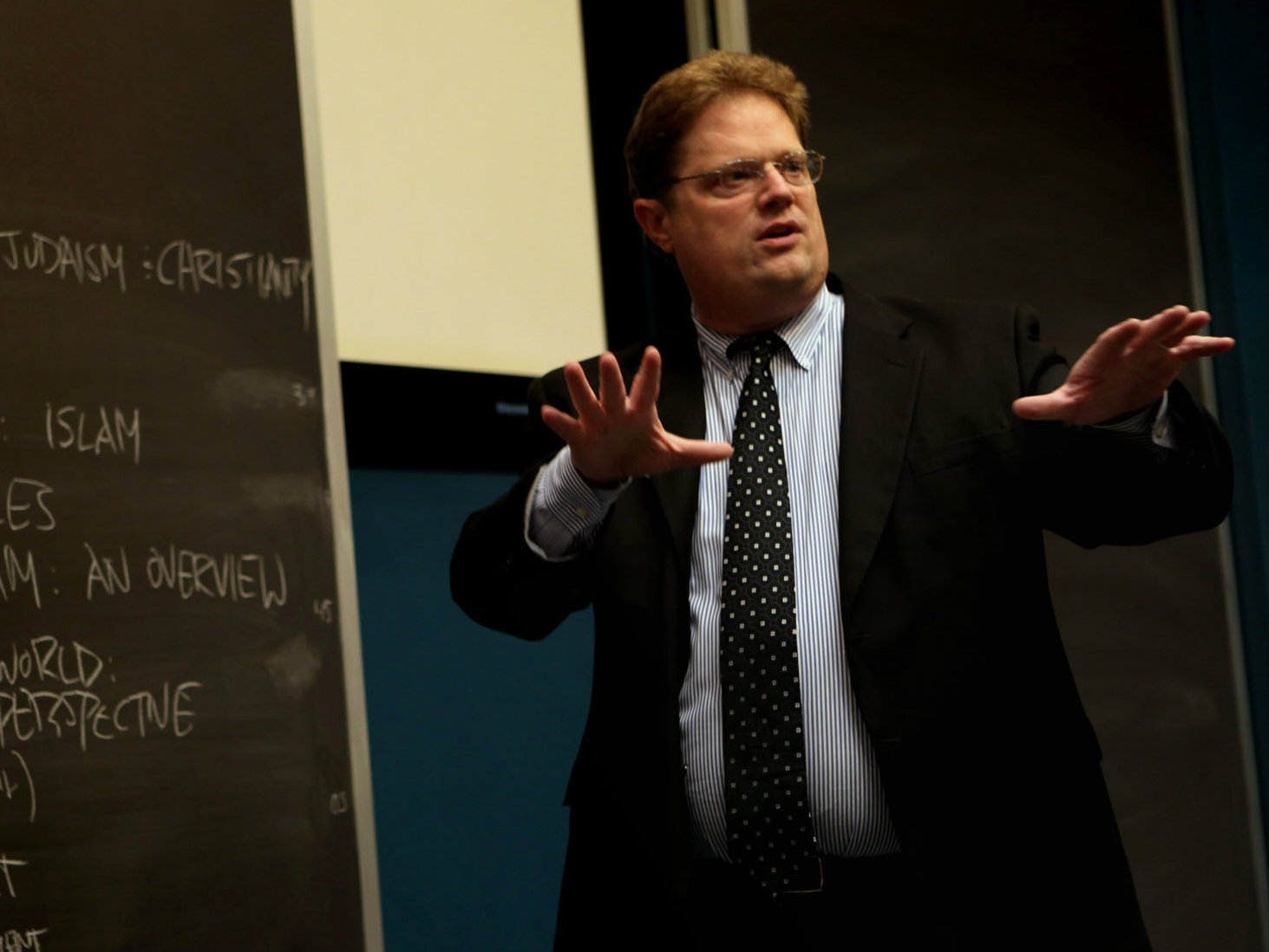 2013 Fall Convocation
Thursday, September 12
12-12:50 p.m.
Convocation Center, Jane P. Batten Student Center

Literally a "calling together," Virginia Wesleyan's annual Fall Convocation assembles the College community to mark the beginning of the new academic year. Students, faculty and staff will gather in the Convocation Center inside the Jane P. Batten Student Center on Sept. 12 at noon to launch a new year filled with academic excellence and shared intellectual pursuit. Professor of Religious Studies Craig Wansink will serve as the event's keynote speaker and VWC Alumni Award winners will be recognized.

Centering on the College's 2013-2014 academic theme, Convocation will focus on Charles Duhigg's The Power of Habit, the chosen summer read for the Class of 2017. Incoming students were required to read the book as part of "First Year Experience (FYE 101)," a one-credit course exploring the nature of liberal arts learning. College programs and experiences are framed around this broad theme—habits—to unite the campus community in interdisciplinary exploration throughout the year.

Wansink's speech, although titled "Habits and the End of the Liberal Arts," will actually highlight the need for the liberal arts by focusing on a quotation from 19th-century British poet William Johnson Cory in which he articulates the purpose of education:

"You go to a great school not so much for knowledge as for arts and habits; for the habit of attention, for the art of expression, for the art of assuming at a moment's notice a new intellectual position, for the art of entering quickly into another person's thoughts, the habit of submitting to censure and refutation, for the art of indicating assent or dissent in graduated terms, for the habit of regarding minute points of accuracy, for the art of working out what is possible in a given time, for taste, for discrimination, for mental courage, and for mental soberness."

In addition to receiving his Ph.D. from Yale University, Wansink has studied at universities in Japan, Jordan, Germany and Israel. Recently, his research on the Last Supper, and on veterans and religion, received national and international press. An ordained Presbyterian minister, Wansink also serves as Pastor of Second Presbyterian Church in Norfolk. He has served as Chair of the Board of Trustees for his Iowa alma mater, Morningside College, which—like Virginia Wesleyan—is a small, private, Methodist, liberal arts college.

The annual Alumni Awards ceremony will also be held during Convocation to honor VWC graduates who have achieved distinction in their fields and served their communities in a variety of ways. The College's Alumni Association has recognized VWC graduates for their outstanding professional and personal accomplishments since 1981.

"As VWC graduates, each and every one of us enters the world well prepared for success," says Christopher Dotolo '91, President of the Alumni Association Board of Directors. "But there are those graduates who take all of the lessons that our campus provides and use them to change the world around them and to change the lives of others."

The 2013 Alumni Award winners are Bonnie Sutton '99, Distinguished Alumna Award; Thomas Taylor '00, Alumni Service Award; and Bladen Finch '03, GOLD (Graduate of the Last Decade) Award.

The afternoon will feature music by the Eastern Virginia Brass and performances by the Wesleyan Singers and the Virginia Wesleyan Chorale, led by Director of Choral Music Michael Trotta.

For more information on Virginia Wesleyan's 2013 Fall Convocation, contact the Office of Academic Affairs at 757.455.3210.