Democracy in Action
VWC students and faculty make the most of election season with registration drives, information sessions, debate parties and more
By Leona Baker | November 5, 2012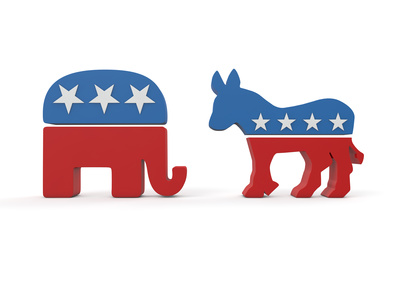 College students have a vital role to play in the political process, both as a coveted demographic for anyone vying for elected office and as young voters finding their place in civic life. Convincing students to invest in that process and make themselves heard on Election Day is a challenge often best suited for other students—students like VWC senior Shelby St. Gelais, who was bitten by the political bug at an early age.
"My love for politics started in kindergarten," says the transfer student and business major, who ran her own successful campaign for school president in the 5th grade. "I had family members who would talk about politics often and I would hear them mention the president. I remember learning in school that the president had a lot of power and was the 'head' of the United States. What 5-year-old wouldn't think that is cool? I started telling my teachers and classmates that I was going to be the first female president one day."
Most recently, St. Gelais has brought her enthusiasm for civic engagement to a variety of initiatives in the community as well as on the VWC campus. St. Gelais serves as campaign and finance manager for a local candidate for Virginia Beach School Board. With help from Assistant Professor of Political Science Leslie Caughell, she also worked to reactivate Virginia Wesleyan's Political Science Association, a student group that encourages political interest and opinion in a non-partisan manner through a variety of events.
Among those events was a debate watching party at which about 25 students gathered to view and discuss the last 2012 presidential debate. During the debate, the students utilized social media to participate in dialogue about the topics—primarily foreign policy issues—and candidates. A thoughtful discussion followed, facilitated by Assistant Professor of Political Science Murrell Brooks.
"We wanted to create a place where we come together in a non-partisan to way to stimulate discussion on what's going locally, nationally, and globally," St. Gelais says. "I am really big about getting students engaged. Now more than ever it's about investing in our future, and this is a great way to do that."
Virginia Wesleyan received a $1,000 grant this year from the national Campus Engagement Election Project, which also helped support the College's efforts to promote voter registration, issues education and volunteer opportunities. These efforts were sponsored on campus by the Offices of Community Service and International/Intercultural Programs, the American Politics Freshman Year Experience class, and Zeta Phi Beta sorority.
Sophomore and Zeta Phi Beta member Dejha Crudup was particularly interested in the voter registration aspect. With help from the VWC Office of Community Service, Crudup and her sorority successfully signed up 101 new registered voters on campus.
"For me personally, the efforts to get people on this campus registered to vote have truly been an inspiration," Crudup explains. "I am glad as a first time voter that I am able not only to exercise my right to vote but help other students on campus know how important their voice is in society."
Other recent election-related events on campus included panel discussions examining voter disenfranchisement and issues of religion in various races across the country. A visit to the Batten Student Center by representatives of local, state and national candidates also offered opportunities for students to volunteer for campaigns.
Virginia Wesleyan professors have encouraged student involvement in the current election season in a number of ways—from election-related writing assignments to an outing to hear both Virginia senatorial candidates speak to an election night pizza party. A display of presidential campaign buttons that incorporate religion, organized by Gloria & David Furman Professor of Judaic Studies Eric Mazur, is also currently on display in the Hofheimer Library.
"Virginia Wesleyan prepares each student not only for professional success but also for a reflective life in service to one's community," says Vice President of Academic Affairs and Kenneth R. Perry Dean of the College Timothy O'Rourke, also a professor of political science. "Becoming an active participant in the democratic process goes hand-in-hand with immersion in the liberal arts and the Wesleyan tradition."