Dr. Craig Wansink Interviewed on Good Morning America, CNN
By Megan Z. Shearin | March 24, 2010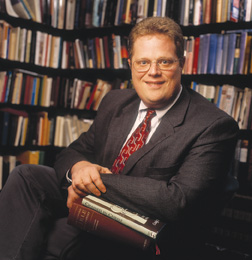 Norfolk/Virginia Beach, Va. – Virginia Wesleyan College's Professor of Religious Studies Dr. Craig Wansink is receiving international media attention for his article and research addressing increased food proportions in biblical paintings, such as the Last Supper, over the last millennium.
>> Watch the Interview on Good Morning America
The article, co-authored with his brother, Dr. Brian Wansink of Cornell University, was released yesterday in the International Journal of Obesity. Using a computer, the brothers compared the size of the food to the size of the heads in 52 paintings of Jesus Christ and his disciples.
Their research shows that over 1,000 years the size of the food in the paintings grew significantly. The main dish grew 69 percent; the size of the plate, 66 percent, and the bread, 23 percent.
"We found that this whole supersizing phenomenon has really gone on for a long time," said Wansink. "In an age of supersizing, there's a general trend that increased food sizes have been seen as good, and we need to acknowledge and be aware of this."
International attention continues to grow for Wansink. He has been contacted by media outlets in Australia, Mexico, Canada, Brazil, Holland, Spain and Germany. The Last Supper article by Wansink was even referenced in the Italian newspaper, 'La Repubblica'.
###