Dr. Dan Margolies Receives 2010 Carl Bode Award for Outstanding Article
History professor honored with top award from Popular Culture and American Culture Associations at the national meeting in St. Louis, Mo.
By Megan Z. Shearin | April 6, 2010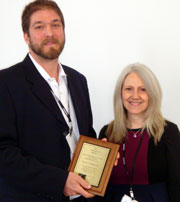 Norfolk/Virginia Beach, Va. – Virginia Wesleyan College's Associate Professor of History Dr. Dan Margolies is the recipient of the 2010 Carl Bode Award for Outstanding Article published in the Journal of American Culture, for his article, "Latino Migrant Music and Identity in the Borderlands of the New South." Margolies was presented the award on Friday, April 2, at the national meeting in St. Louis, Mo., by Dr. Kathy Merlock Jackson, Virginia Wesleyan's professor of communications and editor of The Journal of American Culture.
Margolies' article details the Latinization of the South (termed by scholars as the "the Nuevo South") and uses the unique lens of migrant music-making to study globalization, hybridization and the creation of new borderlands culture in the region. Using music to gauge the evolving sense of regional identity, Margolies specifically examines a norteño band from Raleigh, N.C., and traveling mariachis working in restaurants throughout North Carolina and Virginia.
"It is really an honor to be recognized for this article," said Margolies. "I look forward to continuing my research on Latino music and the sense of place and space in the South."
A total of 21 articles were reviewed by an independent committee of three officers from the Popular Culture and American Culture Associations.Ph.D. and M.A., University of Wisconsin-Madison
B.A., Hampshire College
Margolies teaches a wide variety of courses at Virginia Wesleyan including topics such as globalization and empire, Old and New South, the Civil War, the nineteenth century, maritime history, radicalism and violence in American history, Appalachian traditional music and the history and practice of beekeeping. His research specialties are American foreign relations and Southern history. He received his Ph.D. and M.A. from the University of Wisconsin-Madison and his B.A. from Hampshire College.
Carl Bode was a professor, author, poet, commentator, and a strong advocate for the Popular Culture Association. He published over thirty books on a variety of subjects including Henry David Thoreau and H. L. Mencken. He also wrote the bicentennial history of Maryland. Bode also served as President of the American Culture Association.
###