Education Made Easy for Veteran Couple
Navy spouses return to school, find straightforward admissions process and generous tuition coverage through the Veterans Benefits Office
By Stephanie Smaglo | January 18, 2012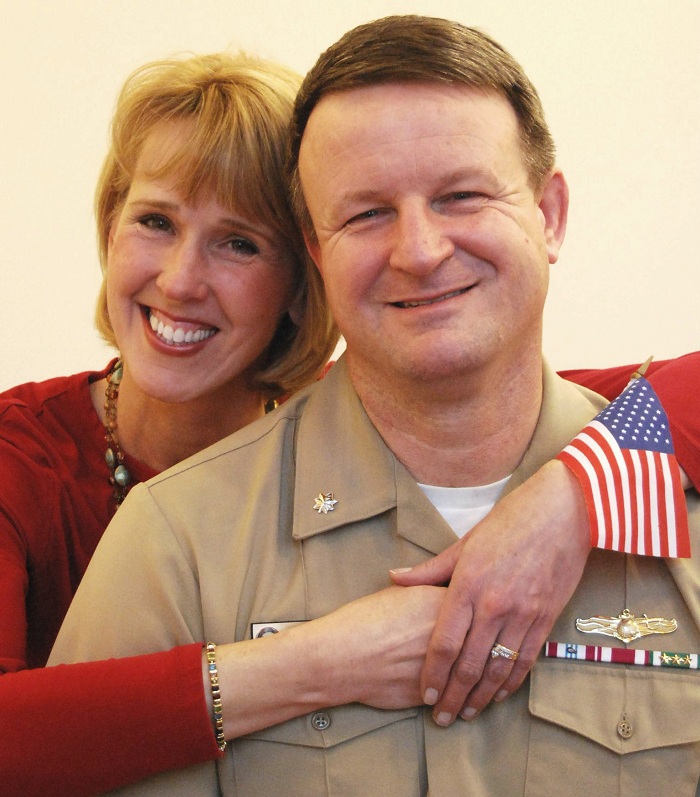 It's a rainy afternoon in January when Caroline Tetschner scurries into the Godwin Hall lobby. Her beaming smile brightens the otherwise gloomy day as she spots her husband, Navy Commander John Fedorowicz, standing across the room. Caroline, a Navy veteran herself, and John have visited Virginia Wesleyan today to share their unique experience returning to school with support from the College's Veterans Benefits Office and Adult Studies Program.

Caroline and John are no strangers to higher education. A motivated teenager, Caroline joined the Navy as a way to see the world and pay for college on her own. She served on active duty for five years before entering the Navy Reserve, at which point she pursued her bachelor's degree in Communication from the University of Connecticut. She was later commissioned a Public Affairs Officer and spent the majority of her 27-year military reserve career working at duty stations ranging from the Pentagon to Naples, Italy. In her civilian life, she worked as a reporter and anchor for news conglomerates PBS and NPR.

As she neared retirement from the Reserve, Caroline began thinking about a second career. With her strong communication background and love for literacy, she decided to enroll in Virginia Wesleyan's Alternative Certification for Teachers (ACT) program, a teacher education platform designed for those who've already earned a bachelor's degree and want to make a career change. Taking advantage of the Adult Studies Program's evening and weekend classes, Caroline achieved her teaching certificate in secondary education in just 14 months.

"Virginia Wesleyan really helped me fill in the gaps to get certified in Secondary English," says Caroline. "Students not only get a rock solid foundation of academics, but you're also able to attend invaluable after-school seminars that teach you how to market yourself and allow you to network with potential employers. This was critical to the most important overall step in the program – actually getting the job."

Caroline's husband John works as a Navy Intelligence Officer at U.S. Fleet Forces Command in Norfolk, a 25-year career he's built based on his passion for learning. He earned his bachelor's degree in chemistry and worked as a paramedic before his desire for financial stability led him to join the service. John continued his schooling in the military, obtaining his master's degree in educational leadership. His goal was to someday retire from the Navy, become a chemistry teacher and eventually take on a school administration role.

"During my second tour in the Navy, I was a podium instructor in the Intel school house," John says. "That's when I really kind of fell in love with teaching. As an officer, I was involved with curriculum development, scheduling, and classroom management, developing a skill set that I could apply to being a classroom teacher and maybe one day a principal."

His military experience and educational background have now led him, like his wife, to pursue a secondary education teaching certificate from VWC. He started the ACT program last fall and will fulfill his student teaching requirements in the spring of 2013.

"I've been at Virginia Wesleyan now for two classes," John recalls. "I didn't know what to expect coming in, but I've been very impressed by the faculty. Dr. Malcolm Lively and Dr. Karen Bosch were my first two instructors, and from day one I came out of each class with information I could really use. I'm looking forward to meeting my future instructors and maintaining relationships with them throughout what I hope will be a good, solid teaching career."

Caroline and John have both taken advantage of the generous military education benefits offered through Virginia Wesleyan and the U.S. Department of Veteran's Affairs (VA). The affordable rates of the College's Adult Studies Program combined with the tuition assistance provided through the Post 9/11 GI Bill® has allowed them to receive their VWC education at virtually no cost.

In addition to the substantial monetary benefits and the flexibility of the Adult Studies Program, Virginia Wesleyan offers valuable support services to incoming military students, including a VA work-study program, counseling services and academic resources through the campus Learning Center. Each student works closely with a School Certifying Official (SCO) and Financial Aid Counselor to ensure that all their questions and concerns are addressed.

"The transition from military to civilian life can be challenging for veterans," says Melanie Monk, VWC's School Certifying Official (SCO) and Financial Aid Counselor. "I pride myself on quickly processing enrollment certifications to ensure stipends are paid to recipients in a timely manner. It's my job to make sure that we offer any and all services that allow for a smooth transition and academic success for both veterans and their families."

Caroline and John know firsthand about the challenges of juggling life and school. From working full-time jobs, to fostering shelter dogs, and even running a Bingo fundraiser, spare time is not something that comes easily. But continuing your education, to them, is something that's worth making time for.

The rain continues to come down as Caroline and John head back outside to their busy lives. They have kept their chat short, as Caroline needs to get home and prepare for the first week of her new job – teaching seventh grade English at Lafayette-Winona Middle School.


To learn more about the support offered through Virginia Wesleyan's Veterans Benefits Office, contact School Certifying Official (SCO) and Financial Aid Counselor Melanie Monk at 757.455.3207 or mmonk@vwc.edu, or visit http://www.vwu.edu/admissions/financial-aid/veteran-support-services/.