Emancipation Project Tells Story with Song
Student choirs from VWC and UAB will celebrate the Emancipation Proclamation's 150th anniversary with original works by Dr. Michael Trotta
By Stephanie Smaglo | March 15, 2013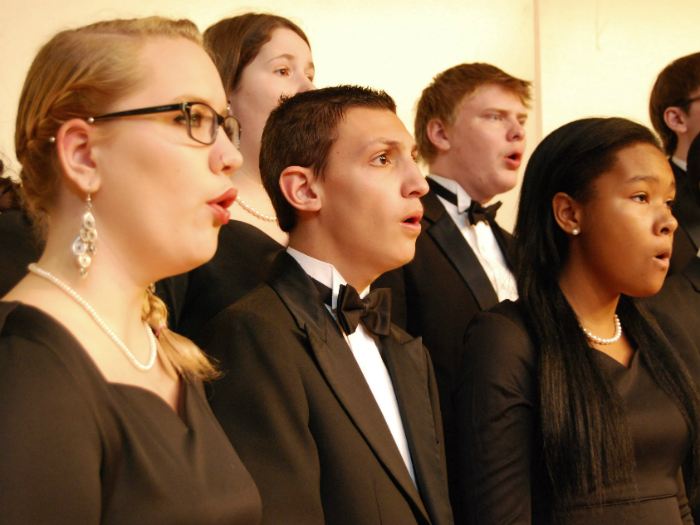 The Emancipation Project
Monday, April 8 at 7:30 p.m.
Virginia Beach United Methodist Church
212 Nineteenth St., Virginia Beach

Wearing his signature suit and tie, crouching in a sort of half-sitting, half-standing position, Michael Trotta is managing to bang out a melody on the piano while simultaneously conducting the 35 choir students in front of him. Though a tad frenzied, today's rehearsal seems to be going smoothly until Trotta enthusiastically flips the page of his sheet music, sending a stack of pens and his spare conductor's stick flying. Without causing so much as a pause in the music, it becomes clear that this spirited leadership and atmosphere of excitement are just part of the process for the Assistant Professor of Music and Director of Choral Music.

The group has a good reason to be excited today. A month from now, on April 8, they will perform the Emancipation Project at Virginia Beach United Methodist Church, bringing student choirs together from Virginia Wesleyan and the University of Alabama at Birmingham (UAB) in celebration of the 150th anniversary of the Emancipation Proclamation. In its second tour stop, this collaborative concert series will make history with its local debut of original music by composers Trotta and Glenn McClure.

Discussions for the tour began more than a year ago when Trotta's long-time friend, colleague and UAB choral director Brian Kittredge suggested the schools combine efforts with McClure, who had already begun developing compositions to celebrate the historic event. Together they created a program filled with uplifting songs of hope and freedom and a schedule of tour destinations that symbolically follow a trail that many slaves used in their quest for independence.

The tour's first stop was Birmingham, Alabama. Participating VWC students traveled south Jan. 17-20 as part of Trotta's intensive three-week winter session course, "Virginia Wesleyan Choral Tour," performing alongside the UAB Honor Choir, Concert Choir and Steel Drum Band. The schools performed not only to honor the signing of the Emancipation Proclamation, but also to celebrate the 50th anniversary of the U.S. Civil Rights Movement.

"Collaborating with UAB has been a blessing," says sophomore sociology major and music performance minor Stephanie Harron. "In January, we traveled 15 hours to Birmingham and, because both choirs had rehearsed so diligently, we were able to combine our groups effortlessly. I look forward to performing with them again in April to celebrate this unique experience and significant moment in history."

The group will make its way to Southeastern Virginia for its second tour date. Co-sponsored by the Virginia Wesleyan Music Department and the Center for the Study of Religious Freedom, the event will take place at Virginia Beach United Methodist Church (19th and Pacific, Virginia Beach). The UAB choirs will join the Wesleyan Singers, the Virginia Wesleyan Chorale, and piano accompanist George Stone, who also serves as the College's applied music specialist. McClure will add a touch of percussion with the steel drum and rhythm with the electric bass guitar.

Trotta and Kittredge will conduct, with performances including "Preamble," using script from the Preamble to the United States Constitution; "Emancipation," with text from the Emancipation Proclamation; "Must Be a Struggle," an excerpt from Frederick Douglass' "Speech on West Indies Emancipation;" and the traditional spiritual "Go Down Moses."

The music's uplifting tone and meaningful message has been an inspiration to freshman music education major Mary Kurzenknabe.

"We have grown from a weak nation, full of judgment, hate, and discrimination," she says. "To a nation that loves and welcomes diversity. The Emancipation Project speaks to people in a way that the written document cannot and changed the way I see the world. I now have faith that wars will end and that peace may be on the way. Music is powerful. Music can change the world."

The order in which the selections will be performed is no accident. The group aims to tell a story through song, the first selection beginning with the "Preamble" declaration, "We the People," and the last song ending with the "Go Down Moses" command, "Let my People Go."

"Glenn [McClure] had talked about the idea that there's this connection," says Trotta. "There was a sort of consolation in 'We the people,' in that people aren't struggling on their own. There comes a solidarity."

In a description written for the program, McClure expresses the educational message he hopes the music will deliver.

"These new works are meant to transform the triangle of slavery and exploitation into a new triangle of creativity and global understanding."

That's definitely something to sing about.