"Embrace Your Space" Enriches Campus
Academic Session theme encourages College to take creative ownership of surroundings
By Stephanie Smaglo | December 13, 2012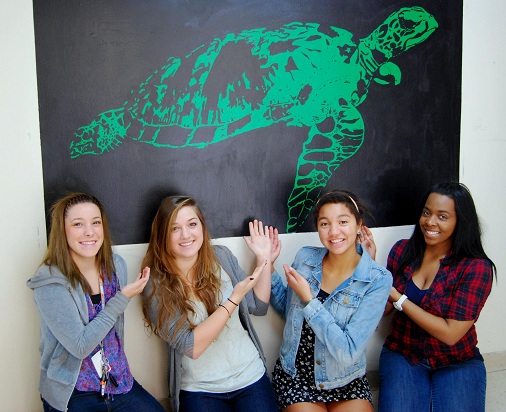 Space. We all have it. It comes in different shapes and sizes, even different textures. It's a powerful thing, space. It has the ability to evoke feelings of safety, relaxation and happiness, or conversely, to make us feel disconcerted or isolated. The nice thing about our surrounding space is that we are able to take control of it and make it our own. It allows us to share who we are creatively, academically, athletically, professionally and, above all, personally. This feeling of ownership, expression and comfort is exactly what Virginia Wesleyan hoped to achieve with the theme of its 47th Academic Session, Embrace Your Space.

The idea for this theme emerged from a summer reading assignment. Each fall, incoming students are enrolled in "First Year Experience (FYE)," an orientation course designed to help them engage and succeed both academically and socially. In preparation for the course, this year's incoming students were asked to read Dave Egger's Zeitoun, the true story of a New Orleans resident who chose to stay behind during Hurricane Katrina to watch over his family's home and rental properties. The book raised questions about building and caring for your personal space and the importance of embracing the physical area around you. From that, Embrace Your Space was born.

"For each entering class we try to make Virginia Wesleyan a home away from home for students," said David Buckingham, Vice President for Student Affairs and Dean of Enrollment Services. "We developed this year's theme based on embracing your academic responsibilities, embracing new friends, embracing where you live, where you play and where you learn."

The chosen theme has been, and will continue to be, featured around campus throughout the entire academic year. This fall, four outdoor lounge spaces were constructed at Villages I and II to provide students with comfortable new areas to gather. Referred to as "Mini Marlin Parks," the spaces consist of Adirondack chairs, hammocks and grilling areas.

In addition to the summer reading assignment, Director of First Year Experience Denise Wilkinson has incorporated the Embrace Your Space theme into the "FYE" program on a more tangible level. "FYE" instructors were given the option to participate, and 19 out of 38 sections chose to get involved. Class instructors were designated with a unique space on campus and were allotted $100 to enhance the area and build civic engagement among students. One section chose to "embrace" the picnic area at Lake Taylor, painting the dock and installing Tiki torches. Another class planted flowers and placed pumpkins outside Hofheimer Theater. Wilkinson has been thrilled with the outcome of the projects and the level of involvement from faculty and students.

Associate Professor of Art John Rudel is also using this year's theme to make a tremendous impact on campus. He has incorporated a project called "Reflect Your Area" into a handful of his classes, including his sections of "First Year Experience." He tasked his students with painting wall murals at eight hallway intersections throughout the Village I residence halls, exploring concepts of community relating to the College campus or the geographic region surrounding the school. Through the assignment, Rudel sought to add an aesthetic improvement to the campus living environment while providing students with an outlet to make a creative statement.

"'Reflect Your Area' was a great way to allow students to have a meaningful and lasting impact on their community and the campus environment," Rudel said. "It was particularly interesting to see students collaborating to make their projects a reality. The creative and pragmatic cooperation necessary to complete the assignment is an invaluable take away for students."

The project resulted in 24 paintings, each measuring 4' x 6', covering the walls of Rose, Kellam, Old and Eggleston Halls. Visitors will find murals of local landmarks like Virginia Beach's King Neptune statue and Doumar's in Norfolk, as well as a series of three murals that combine to spell out the letters V-W-C. The paintings are a brilliant visual representation of the many facets that Virginia Wesleyan's liberal arts education has to offer. They also provide students with a comfortable atmosphere to call home, according to McCarren Caputa, Director of Residence Life and Assistant Dean of Students.

"The Embrace Your Space initiative, especially in Village I, is a tangible way for new students to see their space as 'home,'" explained Caputa. "It provides them with a sense of belonging and ownership that we hope extends throughout campus and across their years at Wesleyan."

Branner Johnston, an art major in one of professor Rudel's participating classes, felt that the project was a great way to incorporate the College's surrounding areas into student's lives. Her group, whose paintings can be found on the second floor of Kellam Hall, chose to incorporate a theme of marine life into their murals. Johnston and her team members, Kim Bradshaw, Candace Carey, Kandace Gates and Skye Winship, painted a sea turtle, a pufferfish and, in homage to the College mascot, a marlin.

"The project is about how we incorporate our surroundings into the school community," Branner said. "We chose a marine life theme because Chick's Beach is only 10 minutes away and a lot of students go there. I really enjoyed doing the actual painting, talking to people in the dorms and seeing the paintings the other groups were working on."

Walking around campus this semester, it is clear that VWC is embracing the theme of this year's academic session. Students, faculty and staff have seized the opportunity to turn their "space" into reflective areas where they can come together as a community to live and learn. The creative, personal statements adorning the campus will provide a sense of ownership and comfort for generations to come.