Employees Bring a Spark, Light a Fire
Dedicated faculty and staff with service ranging from 10 to 40 years are honored at Employee Appreciation Reception
By Jessica Hauser '13 | April 16, 2013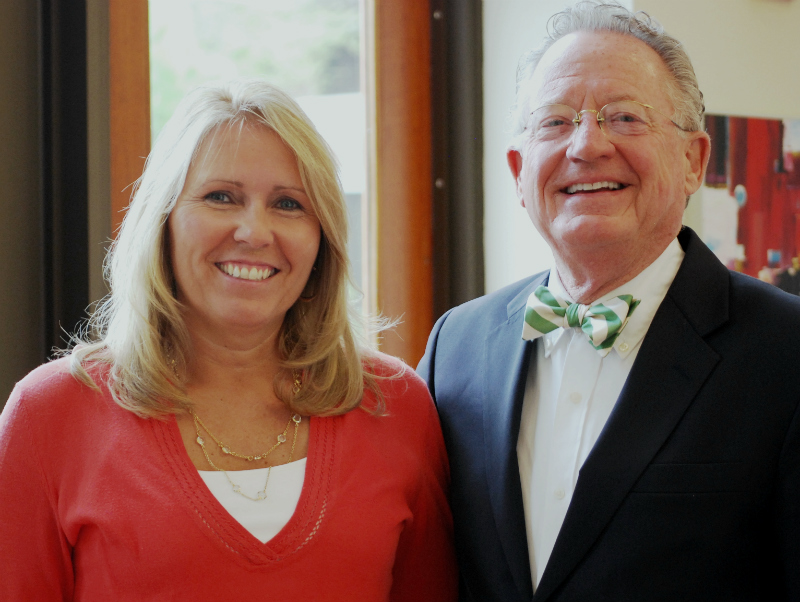 "Bring a spark. Light a fire." This is not just a motto. It is a philosophy that speaks to the Virginia Wesleyan experience, and it rings true not only for students and alumni, but also for faculty and staff. Those who come to Virginia Wesleyan are encouraged to bring their spark of individuality and to light a fire at a College that inspires thinking and feels like home.

This has definitely proven to be the case for Michele Obenour, a 25-year employee of the College, wife of 26 years and mother of two children, ages 15 and 20.

"I get to work at a great institution and also be there for my family," she says. "The VWC community understands the balance, and I don't feel like one has to suffer for the other."

Obenour was honored along with 20 other Virginia Wesleyan employees with years of service ranging from 10 to 40 at the Employee Appreciation Reception held in the Pearce Hospitality Suite on April 16.

Beginning her VWC career in 1988 as the College's faculty secretary, Obenour is now the Executive Assistant to the Vice President for Student Affairs and Dean of Enrollment Services. She says her co-workers and the students are a big part of what's kept her at the College for so many years.

"The people at VWC are so caring and genuine, and I love being around college students. They are just fun."

The reception's honorees were recognized by President Billy Greer and Human Resources Director Karla Rasmussen. Guests enjoyed a variety of hors d'oeuvres and cake.

2013 EMPLOYEE HONOREES
10 Years
Terry Critser
Stephany Dunmyer
Anne Fansher
Lena Johnson
Rodney McFarlin
Ronda Rothwell

20 Years
Karen Bosch
Pamela Paramore
Sharon Payne
Ehsan Salek
Craig Wansink

25 Years
Elaine Aird
Douglas Kennedy
Mary McKennelly
Garry Noe
Michele Obenour
Deborah Otis

30 Years
Paul Resslar
Frederick Weiss

35 Years
John Braley

40 Years
Sandra Brooks