Entrepreneurial Spirit
Mike White '81, CEO of Maersk Line, North America, heads up an impressive schedule of speakers and events at Spring 2012 Business Conference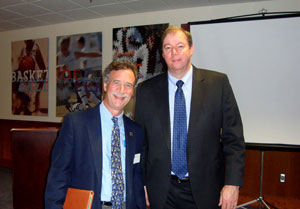 By Staff | May 7, 2012
Many successful business leaders emphasize the importance of enjoying what you do for a living. For Mike White '81, president and CEO of Maersk Line, North America, enthusiasm for the job once even earned him a traffic violation.
"You have to love what you do," White said during his April 24 presentation in the Pearce Hospitality Suite at VWC as part of the College's second week-long business conference. "I mean, who gets a speeding ticket on their way to work?" he joked.
A graduate of Virginia Wesleyan's Liberal Arts Management Program, White was named president for Maersk Line Agency, Inc. in 2009 and is responsible for all Maersk Line activities for the United States and Canada. Maersk Line is one of the leading liner shipping companies in the world with over 25,000 employees in more than 125 countries.
Addressing primarily business students, faculty and staff, White talked about his time at VWC and how it shaped his life and career. He mentioned specific courses that were particularly meaningful to him including problem solving, international business, public speaking and ethics, and he stressed the significance of the liberal arts approach, which he said taught him things that would later become invaluable.
"Liberal arts is the degree to get because your education will be well rounded," he said.
White outline five core values that guide Maersk: integrity (doing the right thing because it's the right thing to do), constant care (being vigilant about quality in every aspect of one's business), brand image (never doing anything that would negatively impact the brand), humbleness (letting one's work speak for itself), and people power (treating employees well).
"The key is you have to work and seize opportunities," said White, "There is significant value in being able to problem solve and think laterally."
White reminded students that no matter how much you love your job, it's also important to strike a balance in your life and to find time to give back to your community. The latter goal, he said, was one he was still working toward and part of what drove him to come back and speak at his alma mater.
White was one of more than 25 speakers and panel members scheduled for the conference. Among them was another Virginia Wesleyan graduate, Karen Corrigan '91. Corrigan is the CEO and co-founder of Corrigan Partners, LLC, a healthcare management consultancy firm based in Norfolk, Virginia. As part of a panel on the topic of networking, Corrigan talked about the nature of entrepreneurship and the value of social media marketing. She emphasized the importance of researching your business idea and being willing to invest the creativity and energy necessary to achieve your goals.
Entrepreneurship Focus of Spring Business Conference
Students in Dr. Paul Ewell's MBE 301 Principles of Management class organized VWC's Spring 2012 Business Conference based on different aspects of entrepreneurship. Complete with a different theme each day, the weeklong conference, held April 23-27, hosted businesses as diverse as the Studio Bamboo Institute of Yoga and Geico and covered a variety of topics such as the "legal and financial benefits of social responsibility" and "how to successfully promote and network for a small business."
"It was a lot of collaborations among team members of each day. We all worked together. It was stressful at times, but I think we all took away something from the experience," said junior business major Carly Williams.
The students who organized the conference were immersed in a hands-on learning experience typical of the liberal arts education students receive at VWC. They applied lessons from courses outside of business to aid in the communication skills and professionalism required for efficient teamwork. The end result was a memorable event for the students as well as broader the campus community.
"It's challenging to do this type of project," said Dr. Ewell, who referred to his role in the conference as the "guide on the side." "I challenge any school in the state to do what they've all done; they did a phenomenal job," Ewell said.
"Dr. Ewell put in as much time as we did. If we needed something he was there. Whether it was 10 p.m. or 7 a.m., he was there," said Delores Roberts another junior business major and conference organizer.
This is the second semester the business conference has been held at Virginia Wesleyan. Ewell plans for it to be a recurring event.
Leona Baker, Lovely Edwards, Paul Ewell, Suzanne Savage and Mita Vail contributed to this article.