Everett Tennis Center a Grand Slam
Special ribbon-cutting ceremony marks the official opening of a new era for VWC tennis
By Staff | October 12, 2012
On the morning of Saturday, October 6, President Billy Greer and O.L. Everett, Chairman of the Board of Trustees, and guests attended a special ribbon-cutting ceremony to mark the grand opening of Virginia Wesleyan's new Everett Tennis Center. Guests gathered for a breakfast reception adjacent to the Center before the Everett family, including O.L. Everett and his wife, Carol, did the honors.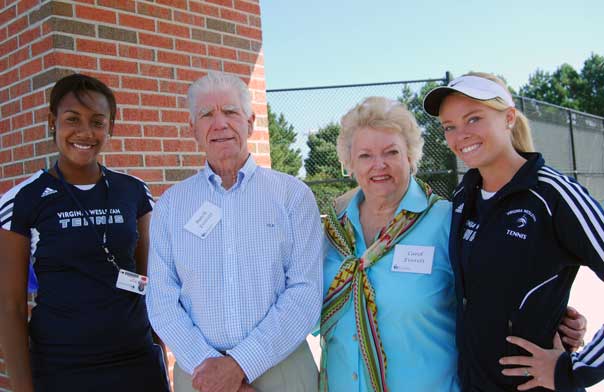 Established on the foundation of the Penzold Tennis Center, named for noted instructor and tennis promoter Ted Penzold, the Everett Tennis Center includes a total of eight new courts—the Thumel Championship Courts, the lighted Penzold Grandstand Courts and four competition courts—along with court fencing designed with California corners, stadium seating, a gazebo, viewing stand and storage. Competition officially began on the new courts last September.
Named after the Everetts, the new facility features spectator-friendly fencing, an upgraded lighting system on the grandstand courts, a welcome gazebo, a viewing stand, a brick façade entrance and ample seating for fans. The location of the center near the Batten Student Center also provides easy access to locker rooms, rest rooms and all the amenities offered in the building.
"We are making history today in a wonderful way," said President Greer during the ribbon-cutting ceremony, while Athletic Director Joanne Renn noted that the event marked the beginning of "a new eras of success" for VWC's tennis program.
The opening of the Everett Tennis Center marks the first of a number of planned modernizations of the College's outdoor athletic facilities and will provide a new home for the men's and women's tennis teams as well a new space to be enjoyed by the entire campus community.
"These courts rival any in the Old Dominion Athletic Conference and are among the top five at any Division III school in the country," said VWC Athletic Director Joanne Renn, who was the women's head tennis coach from 1995 through 1999. "This facility sends a great signal to future Marlins that we take our tennis seriously at VWC."