Experience with Project Planning
VWC Recreation and Leisure Studies students help connect individuals with disabilities to vital community services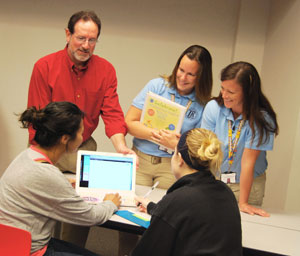 By Laynee Timlin | May 8, 2012
How do you eat an elephant? One bite at a time. That's the fitting analogy junior Stella Davie '13 used to describe the challenging project she and other members of Professor Wayne Pollock's Recreational Therapy Management & Organization class took on this semester. The students assisted the Norfolk Therapeutic Recreation Center with the planning and implementation of the 10th annual People with disABILITIES Day at the Virginia Zoo on May 5.
"Our class helped by recruiting vendors to participate in the event," says Davie. "We reviewed the large number of previous vendors and identified new ones, inviting participation from all of them."
The nine students in the class prepared event registration packages for vendors, greeted them when they arrived at the Virginia Zoo, helped them set up, and developed and administered an evaluation tool that provided feedback on the experience.
The Recreation and Leisure Studies (RLS) Department has had a longtime relationship with the Norfolk Therapeutic Recreation Center-a partnership that has provided numerous volunteer and internship opportunities for Virginia Wesleyan students to work with individuals with disabilities. However, this is the first time for this particular project, which Dr. Pollock planned as one of the course assignments for this semester after identifying a community need during collaboration with Catherine Orletsky, Senior Recreation Supervisor for the Therapeutic Recreation Center in Norfolk.
"This experience exposes students in our recreational therapy track to the detailed aspects of event planning," Pollock explains. "It also provides students with opportunities to foster relationships with community and business leaders while they help to provide valuable resources to individuals with disabilities and their families."
That's one of the reasons why junior Alexa Go '13 loves this major. Go says she finds it rewarding to match people with services and plans to use the experiences she gained while working on this project to become a certified recreational therapist and work in a rehabilitation setting.
"There's always a connection to the community with this major and the RLS faculty truly cares about you and wants you to do well," says Go. "The event at the zoo was a real success! And the best part is that there is so much more to learn and to look forward to in this field."
Stella Davie, a native of Utah, is also studying to be a certified recreation therapist. She plans to go to graduate school to obtain her master's in occupational therapy after she graduates from Virginia Wesleyan next year.
"Mostly, I learned that early planning and baby steps are very important for an event like this. It was hard work, but worth the learning experience!"