From Russia to Virginia
Attending college at Virginia Wesleyan is a dream come true for one member of the Class of 2016
By Laynee H. Timlin | August 28, 2012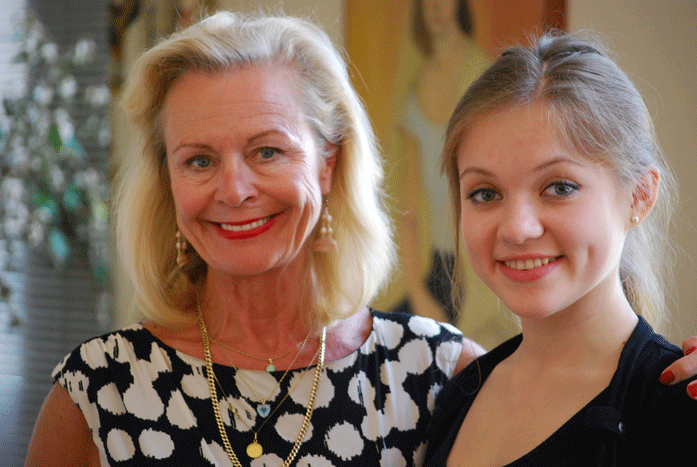 Tatyana Zvonareva is one of 443 freshmen who started classes at Virginia Wesleyan College this week. Once again the College opened the fall semester with a record number of new students, making the Class of 2016 the largest class in the College's history. The new freshman class hails from five different countries, 19 states and the District of Columbia and touts academic credentials that include a 24-point rise in the average SAT score and the highest freshman GPA in the College's recent history.
Zvonareva's path to higher education is an atypical one that began last year when she was an exchange student at Cape Henry Collegiate School in Norfolk.
"She came to me, introduced herself, and asked about what she might have to do to try and go to college in America," remembers Paul Horgan, Director of College Counseling at Cape Henry. "She was bright-eyed and enthusiastic, with an excellent academic record. I knew immediately that she was one in a million."
Zvonareva is from a central Russian factory town called Sterlitamak where she went to school and worked in an orphanage, providing care to many parentless children. During her junior year in high school, she was selected from thousands of students to receive a scholarship for a year of education in the United States through the FLEX (Future Leaders Exchange) program sponsored by the U.S. State Department Bureau of Educational and Cultural Affairs.
She had hopes of attending college in America and of becoming a doctor. She is now one step closer to achieving those goals thanks to Horgan's guidance and advocacy. He introduced Zvonareva to VWC's Dean of Admission Patty Patten, and the rest is history.
"Students like Tatyana are a dream come true," says Patten. "She has a stellar academic record, is energetic and hard-working, and has taken on every challenge in her young life with a smile. At a school like Virginia Wesleyan, we are able to assess potential students individually and work with them in customizing a package that fits their needs. That kind of relationship doesn't happen in many places."
When asked what she thought was the biggest difference with schools in America, Zvonareva didn't hesitate to answer.
"Freedom," she says. "In Russian schools things are much more official—very scheduled and formal. I love the freedom here, teachers and students can just talk and relate to each other informally, where in Russia it is a much more formal relationship."
Zvonareva lived with a host family in Virginia Beach during her senior year at Cape Henry. Now she is majoring in biology and chemistry and will be working as a tour guide for Admissions, already adapting to campus life in her new home at Virginia Wesleyan.
"Just a year ago, I could not even have imagined that I would be attending one of the best schools in Virginia. My American dream is coming true at Virginia Wesleyan and I am so grateful. When I first left Russia, I was very homesick, but it's really easy to make new friends quickly in America. Everyone has been so friendly and interested in helping me. God bless Skype, it has helped me to stay in touch with my family."