From Survival to Success
Dr. Karen Bosch's latest book is a step-by-step guide to help beginning teachers plan a classroom that works.
By Megan Z. Shearin | March 9, 2010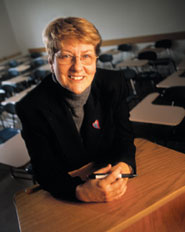 Fear, anxiety, loneliness and inadequacy are all normal feelings for first-year teachers, and now there's a new piece of literature to guide teachers to a confident and successful year – and career.
"I couldn't find a guide out there for first-year teachers," said Dr. Karen Bosch, Virginia Wesleyan's Batten Professor of Education. "The key to a successful first year of teaching is preparation, so a 30-day plan became a part of my research."
The First-Year Teacher: Planning A Classroom That Works is Bosch's fourth and latest book. In it, she plans a chapter by chapter approach to help the teacher move through the first year of teaching. There's also a 30-day management plan that serves as a framework, with a coding system for easy access in specific areas of teaching: special education, middle school education, secondary education and culturally diverse learners.
Bosch has served as the coordinator of the Education Department and the director of Teacher Education at Virginia Wesleyan. As an educational consultant, she has conducted seminars and workshops on classroom management and effective classroom teaching.The First-Year Teacher can be purchased in the College's Scribner Bookstore for $30.
"I don't know many teachers who say their first year is a success," said Bosch. "My goal was to give them an affordable, practical and hands-on book so they would survive, and maybe even be successful."
Bosch points out that classroom management and teaching need to support each other for the teacher to achieve success. Throughout The First-Year Teacher, Bosch stresses the importance of preparation and dealing with the realities of the first days, weeks and months of teaching. Chapter four, which is Bosch's personal favorite, explains the 30-day plan and the teacher as the manager.
"Management must begin the year; management must be maintained throughout the year; and management must end the year," writes Bosch. "Having a plan for managing the class will definitely help you with the realities of the first days."
New teachers will also find valuable information in chapters full of guidelines for frequent communication with parents; time-saving strategies for dealing with mounds of paperwork; and solutions to common discipline problems. "It's so important for first-year teachers to be prepared when they begin the school year. My goal is to get this book into the hands of every teacher and in every classroom."
"I want our teachers to view their students as clients and sell the product of learning," said Bosch.
Recipient of the College's Batten Distinguished Faculty Award for excellence in teaching and scholarship and the Samuel Nelson Gray Distinguished Teaching Award, Bosch enjoys reading, writing and watching the Eagle Cam at the Norfolk Botanical Garden. She has two children: Ryan, a physician, and Morghan, a special education teacher and assistant volleyball coach at Virginia Wesleyan. She also loves being a grandmother to Carter, 10, and Cassidy, 7. She and her husband, Gord, are natives of Holland, Michigan, a Dutch-American city where her 95-year-old mother still resides.