Fun with Numbers
Games, problem-solving, socializing and even the occasional pie are all part of the equation for "Monday Math Night" at VWC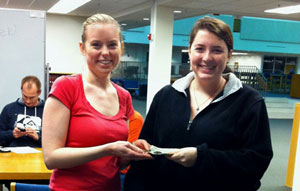 By Leona Baker | April 26, 2012
For most of us, March 14 is just another day. For many mathematicians, it is a day of reverence, an unofficial holiday in honor of the mathematical constant pi-or 3.14.
This year, a group of Virginia Wesleyan College students paid homage to "International Pi Day," designated as such because the number's first three decimals correspond with the date 3-14, with pizza, a pie-eating contest and plenty of number-crunching camaraderie.
The gathering, known as "Monday Math Night," was one of series throughout the last two semesters. The brainchild of Dr. Audrey Malagon, Assistant Professor of Mathematics, Monday Math Night is held approximately twice a month on the first floor of Hofheimer Library as a way of bringing math students together and giving them an opportunity to interact with faculty outside of the classroom.
Some nights, the students snack on Dr. Malagon's homemade butter brickle bars while pouring over a particularly vexing calculus problem. Other nights it's a friendly tournament of the mathematical card game SET or a contest to see who can memorize the digits in a famous number.
"The main goal of the program is to promote collaborative learning and thinking as well as foster a strong sense of community within the major." Malagon explains. "The format of the evening is pretty unstructured, depending on the students who come and how they'd like to spend the time. Whatever the activity that evening, the students get a chance to talk to each other and to us about math in a relaxed environment."
At a recent Math Night, several students were struggling with an out-of-class assignment in which they were asked to design a tile within a specific set of mathematical restrictions. With graphing calculators in hand and pencils working furiously, they talked and joked as they worked.
"This is why I'm here," said freshman Sarah Meng, after Dr. Malagon helped her reach an "ah-ha" moment in solving the problem.
"It's amazing how just saying it out loud will sometimes give you the answer," says Malagon.
Math Nights are helpful for students who aren't math majors as well. For junior biology major Jeff Illinik, it's all about face time.

"I go because it's a chance to work on homework problems with other students and ask the professors questions outside of class," Illinik says.
For sophomore computer science major Abby Jamgochian-who happens to be the proud winner of the pie-eating contest-the one-on-one attention is also helpful.
"When I go, it's usually to talk to Mrs. Ames," says Jamgochian. "She is my programming languages professor, and I go in to get homework help from her. It has helped a lot with being able to see her since I have classes with her on Tuesdays and Thursdays. It's nice to have more opportunities to visit her for questions."
As the semester winds down and exams loom, Monday Math Night is held more frequently to give students more opportunities to strengthen their skills and prepare. The last Math Night for the spring semester is scheduled for May 7.