Giving: The Wesleyan Way
Annual Scholarship Donor and Recipient Dinner is an opportunity for students to bond with benefactors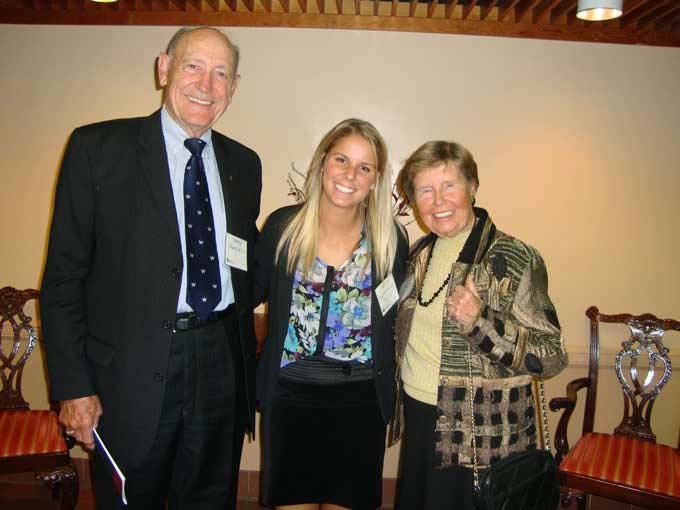 By Staff | November 20, 2012
"For 51 years, Virginia Wesleyan College has been educating young people to become active learners and engaged citizens," President Billy Greer told guests at the annual Scholarship Donor and Recipient Dinner held at Boyd Dining Hall on November 15, 2012. "Tonight, as you listen to one of our alumni donors and our two student scholars, I think you'll agree that the College is educating those who personify these principles and make us all proud to call ourselves Marlins."
The annual event is an opportunity for student scholarship recipients to bond with the generous benefactors who support those scholarships. Virginia Wesleyan currently manages 195 endowed scholarships, valued at approximately $28,800,000. More than 275 students benefit from these scholarships.
Approximately 79 scholarship recipients and 56 donors gathered along with faculty and staff to honor those benefactors whose contributions are critical in helping students reach their academic potential and to recognize the young scholars whose dedication and commitment to academic success exemplify the Marlin spirit. Scholars and their respective donors were seated together. All guests enjoyed dinner and conversation before hearing from the three speakers.
Robert "Bobby" Collenberg, VWC Class of 1990, was the first speaker and featured Endowed Scholarship donor. Collenberg served as President of the Virginia Wesleyan College Alumni Association and was instrumental in setting up the Alumni Association Legacy Endowed Scholarship.
"Bobby is a Marlin through and through," said Mita Vail, Vice President for College Advancement. "He has been a tireless advocate for our students and is committed in word and deed to giving them a quality educational experience in the classroom and around campus."
The two student speakers for the evening were Kinston Walker '15 and Jessica Edelman '13. Walker, a native of Newport News, is a sophomore Classics major, a talented musician and the recipient of the Lisa Courtney Mercer Endowed Scholarship and the Gloria Hollowell Henley Endowed Scholarship. Edelman is originally from Voorhees, New Jersey, and has distinguished herself in classroom as a business major and on the field as a stand-out member of the women's soccer team. Edelman is the recipient of the Tidewater Food Service Scholarship and Eleanor and Henry Watts Endowed Scholarship.
"My four years here at Virginia Wesleyan have truly been the best four years of my life," Edelman said during her speech. "I've grown so much as a person and I can honestly say that it is because of this school. Going to a small school, where you're not just a number, has allowed me to grow into an outgoing confident, driven young adult. This scholarship has allowed me to attend an incredible college that I probably would not have gone to otherwise."
Alumni, friends, parents, companies and foundations establish named endowed scholarships for many reasons—to honor loved ones, recognize what the College has meant to them, give back to the community, show appreciation to favorite professors or support programs of special interest. For information on establishing an endowed scholarship at Virginia Wesleyan, please contact Suzanne Savage, Associate Vice President for College Advancement, at ssavage@vwc.edu.