Graduation Celebrates Class of 2013
Virginia Wesleyan College's 44th Commencement Ceremony held at the Jane P. Batten Student Center on May 18
View the Commencement 2013 photo gallery.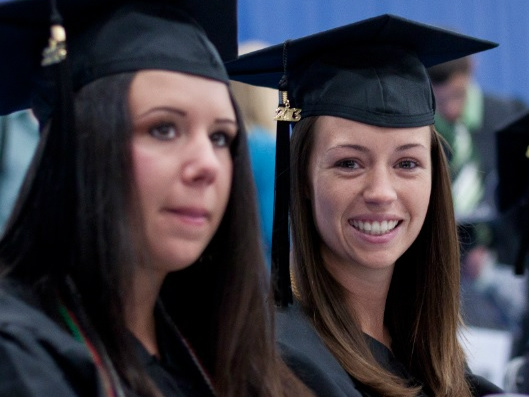 "What an important day in life this is," Virginia Wesleyan College President Billy Greer told the nearly 300 members of the class of 2013 during the College's 44th Commencement ceremony on Saturday, May 18. "I am exceedingly proud of these graduates."

It was a full house in the Convocation Center inside the Jane P. Batten Student Center, the crowd filled with faculty, staff, families, mentors, friends and honored guests, each there to celebrate the graduates' accomplishments and the bright futures before them.

"I'll miss the people, friends and professors, but graduation feels like a well-earned reward," said Anderson Brown of Richmond, Virginia. Brown graduated magna cum laude with a degree in psychology.

During the ceremony, President Greer acknowledged the graduates who are veterans of the Armed Forces, encouraged attendees to visit the College's newly established Veterans Memorial, and directed guests to the commissioning ceremony of Army ROTC officers, which took place following Commencement.

Dr. Timothy O'Rourke, Vice President for Academic Affairs and Kenneth R. Perry Dean of the College, recognized three Virginia Wesleyan faculty members during the ceremony. The recipient of the 2013 Samuel Nelson Gray Distinguished Teaching Award was Professor of Biology Dr. Victor Townsend. The annual Frank and Jane P. Batten Distinguished Scholar Award went to Batten Associate Professor of Marine Biology Dr. Soraya Bartol. The inaugural Service and Community Engagement Award, recognizing a full-time faculty member who exemplifies dedication to service, was presented to Associate Professor of Biology Dr. Deirdre Gonsalves-Jackson.

Serving as this year's honorary degree recipient and keynote speaker was Wolf Trap Foundation for the Performing Arts President Emeritus Terrence Jones. He was introduced by College Marshal Dr. Sally Shedd, Associate Dean of the College and Professor of Theatre.

"Terry is a model for graduates of dedication to alma mater, taking joy in giving something back," said Shedd. "His life is a wonderful example of interdisciplinary engagement and service."

Addressing the Class of 2013, Jones chronicled his life and career rooted in the arts. He spoke of connectivity, creativity and leadership and shared his belief that there are two critical priorities in this ever-changing world of unknowns: education and the health of our environment.

"I believe history has shown the arts can have a vital role in shaping these issues by providing hope, guidance and inspiration in charting social courses," said Jones. "We must continue to refine the tools we need to succeed in the future and I believe imagination, a basic tenet of the arts, is the key ingredient to that success."

Jones received his bachelor's and master's degrees in Education and Theatre at the University of Kansas, with additional graduate studies at the University of Georgia. He served as president and CEO of Wolf Trap from 1996-2012, prior to assuming the role of President Emeritus. During his time of service, he positioned the organization nationally as a premier center for the integration of performing arts, education, technology, and community, while substantially advancing the organization's artistic and educational programs.

"I will watch with great interest as you take your turn as leaders of this nation," Jones concluded. "May the creative force be with you."

The ceremony closed with the singing of the College's alma mater led by Kamil Inmon '14. Following the ceremony, graduates and their families gathered outside on the Batten Center lawn.

"This place is my home," said Rachel Balsley of Charlottesville, Virginia. "But I know I have to grow up and go apply all that I have learned from Wesleyan. Though my time here is done, I will always be a Marlin." Balsley graduated magna cum laude with degrees in communication and English.