Graduation Day for the Class of 2012
Commencement ceremony held at the Jane P. Batten Student Center on Saturday, May 19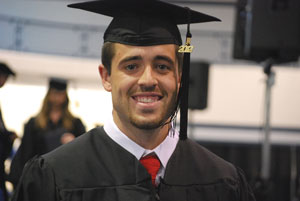 To view more photos from Commencement 2012, click here.
"This day is packed with enormous emotion," Virginia Wesleyan College President Billy Greer told the nearly 300 members of the class of 2012 during the College's 43rd Commencement ceremony on Saturday, May 19. "Take it all in."
In addition to the graduates, the full house in the Convocation Center inside the Jane P. Batten Student Center included faculty, staff, families, mentors, friends and honored guests, who came to celebrate the accomplishments of these scholars on such a momentous occasion.
President Greer noted that this year's Commencement represented the closing of a year-long celebration of the College's 50th anniversary. He also shared his excitement over VWC's first-ever commissioning of Army ROTC officers, which took place in a separate ceremony following Commencement.
Dr. Timothy O'Rourke, Vice President for Academic Affairs and Kenneth R. Perry Dean of the College, recognized two Virginia Wesleyan faculty members during the ceremony. The recipient of the 2012 Samuel Nelson Gray Distinguished Teaching Award was Dr. Sarah Sewell, Associate Professor of History. The annual Frank and Jane P. Batten Distinguished Scholar Award went to Dr. Terrence Lindvall, C.S. Lewis Endowed Professor of Communication and Christian Thought.
In his address to the graduates, this year's honorary degree recipient and keynote speaker, Maurice A. Jones, encouraged the Class of 2012 to ask themselves "What do I want to do?" rather than "What do I want to be?" when considering their future plans.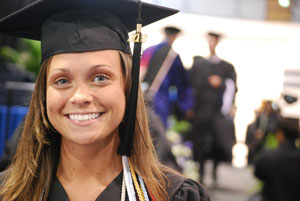 "It's the journey that produces the joy," said Jones, who shared his experiences being raised by his grandparents in rural Virginia and how trial and error and a lot of hard work led him to a successful and rewarding career.
A Rhodes Scholar and graduate of Hampden-Sydney College, Oxford University and University of Virginia Law School, Jones served as president of Pilot Media and publisher of the Virginian-Pilot for four years until he was appointed deputy secretary of the U.S. Department of Housing and Urban Development, a post he assumed in April of this year.
Jones implored the graduates to go to their "game changers," those mentors who have made a difference in their lives, and "thank them and tell them you're going to pay them back."
"How do you pay them back?" Jones said. "Change somebody else's life. There is plenty of work to be done. You just have to choose your passion and go for it."
The ceremony closed with the singing of the College's alma mater led by Jordan Bondurant '12 and Stephanie Drinkard '12. Following the ceremony, graduates and their families gathered outside the Batten Center on what was a picture-perfect day.