Health and Human Services Professor Inducted into National Academies of Practices
One of only 150 members elected by membership, Sharon L. Payne is recognized as a distinguished practitioner and scholar in the healthcare profession.
By Megan Z. Shearin | May 3, 2010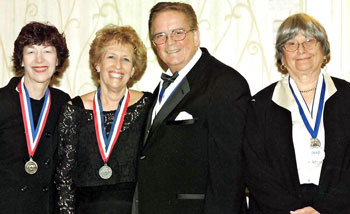 Norfolk/Virginia Beach, Va. – Virginia Wesleyan College's Associate Professor of Health and Human Services Sharon L. Payne, LCSW, CSAC was recently elected as a distinguished practitioner-member of the National Academies of Practices (NAP) during a gala membership banquet in Arlington, Va.
A practicing psychotherapist, Payne specializes in treating women with affective disorders, families with teens, substance abuse and addictions. A graduate of Ursinus College and Smith College School for Social Work, she has studied family therapy as an extern at the Philadelphia Child Guidance Institute and the Family Therapy Institute of Washington, D.C.
Her scholarly interests include women's issues, death, loss and homelessness, and she has developed numerous innovative courses in those areas at Virginia Wesleyan College, including Women on the Brink, a week-long experience where female students live in a homeless shelter and on the streets in Washington D.C., and Homeless in America, immersing students in local homeless encampments in the area. M.S.W., Smith College School for Social Work
B.S., Ursinus College
Payne has been an elected leader in numerous clinical social work organizations from the local to national level. She was a founding member of the Clinical Social Work Guild and one of its first officers. She serves with other professionals on numerous local boards and committees to develop and advise community based social service and healthcare programs.
The National Academies of Practice was founded in 1981 in recognition of the need for interdisciplinary collaboration in healthcare. It is comprised of distinguished practitioners and scholars from all of the primary health professions now including ten disciplines: Dentistry, Nursing, Optometry, Osteopathic MediCine, MediCine, Psychology, Podiatric Medicine, Social Work, Veterinary Medicine, and Pharmacy. Only 150 distinguished members can be elected to membership.
###