Homecoming Was a Hit
Alumni and VWC family came together to celebrate the past, present and future of Virginia Wesleyan at Homecoming and Parent Weekend 2012
By Staff | October 11, 2012
View Photos from Homecoming 2012
Photos by Janice Marshall-Pittman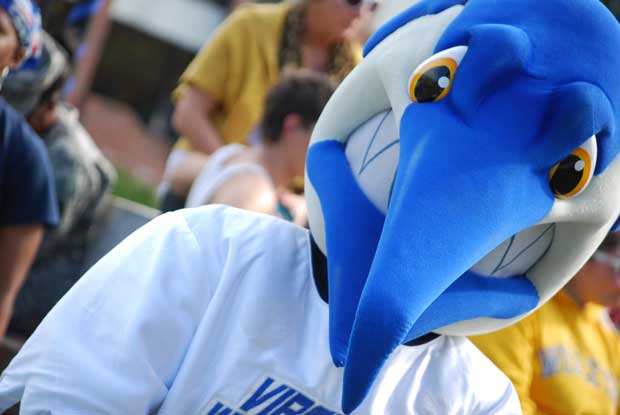 Three days of color, camaraderie and friendly competition marked Virginia Wesleyan's annual Homecoming celebration, October 5-7. Alumni, students, parents, faculty, staff and friends enjoyed a packed schedule of events.
The Homecoming Parade, held on Friday afternoon on the Batten Center sidewalk and hosted by the Student Government Association, was an homage to television—from "Scooby Doo" to "American Idol"—as well as a Key West-themed party complete with a visit from "Jimmy Buffet" (AKA Dean David Buckingham) and his entourage. Students, faculty and, as always, a few four-legged friends, showed their Marlin spirit with costumes and skits of all kinds. The parade ended with a surprise balloon drop off the roof of Hofheimer Library.
The Alumni Awards Reception and Ceremony, also on Friday afternoon, honored three distinguished alumni: Kevin Otey '05, winner of the Graduate of the Last Decade (GOLD) Award; Elena Montello '83, winner of the Alumni Service Award; and John Michael Cobb '75, winner of the Distinguished Alumni Award. Read more about the Alumni Award winners.
Friday evening was the popular Oktoberfest Dinner and a presentation of the play Noises Off, an ingeniously staged comedy of errors in which the cast of VWC students, faculty and staff, under the direction of theater professor Travis Malone, kept the audience in stitches with their expertly choreographed backstage antics. The play continued with several productions throughout the weekend.
Saturday kicked off with a couple of special events. New this year, the VWC Cross Country Team/American Legion Post 35 Homecoming 5K trail race got runners out bright and early with a timed trek around the VWC campus and through the College's beautiful wooded trails. With a great turnout for this first-ever race, plans to make it a permanent addition to homecoming are in the works.
Also on Saturday, President Billy Greer and O.L. Everett, Chairman of the Board of Trustees, and guests attended a special ribbon-cutting ceremony to mark the grand opening of Virginia Wesleyan's new Everett Tennis Center. Athletic Director Joanne Renn noted that the event marked the beginning of "a new eras of success" for VWC's tennis program. Learn more about the tennis center opening.
Saturday was also the big day for the Alumni and Conference Athletic Games including the women's soccer game against Guilford College and the men's soccer game against Randolph College, the Faculty Tent, Tailgate and Reunions, and the Homecoming Dance, which was held on campus this year.
The Virginia Wesleyan Parents' Council was also on campus during Homecoming Weekend. New members attended an Orientation Luncheon on Friday, and the group's regular business meeting was held later that day. Parents' Council members also attended the Alumni Awards Reception and a variety of other Homecoming events.
Homecoming and Parent Weekend concluded on Sunday with a final theater performance, two worship services in the Monumental Chapel and brunch in the Boyd Dining Center.