Hot Off the Press
Latest issue of Marlin Magazine is filled with extraordinary student, alumni and faculty stories
By Leona Baker | September 2013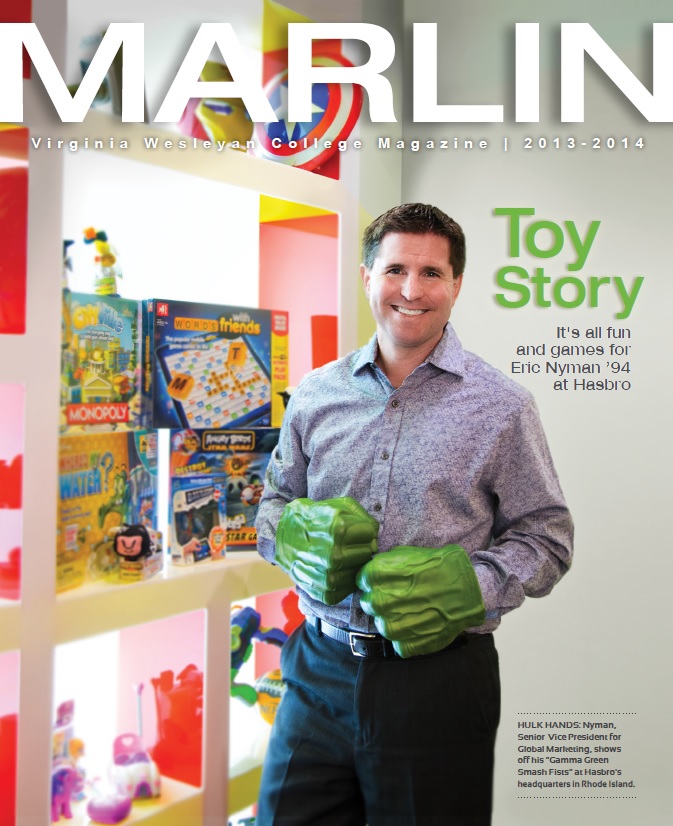 View the 2013-14 Marlin Magazine

The College's 2013-2014 academic theme—habits—plays a big role in this year's edition of Marlin Magazine. In the pages of this issue, you will meet or reconnect with some remarkable students, alumni and faculty. You'll learn about their lives and careers, their research and passions. Whether they're aware of it or not, habits are a vital part of these processes and, indeed, virtually every aspect of our existence.

Somewhere along the line, Eric Nyman '94 (page 18) developed a habit of being persistent—of not giving in when things didn't go his way. It's a habit that served him well when he sent out dozens of inquiry letters to companies he thought he might like to work for only to receive dozens of rejections in return. His persistence paid off. Now he's an executive at one of America's most iconic companies.

Philosophy professor Steven Emmanuel is certainly aware of how the habit of quiet reflection can focus the mind and prepare it for insight. Emmanuel has edited a new book on Buddhist philosophy (page 22) that examines this idea along with many other facets of an ancient and complex tradition.

The intellectual rigor and clarity of thought required for successful academic research surely encourages a multitude of mental habits. These habits bode well for recent graduates Mike Connors, Jenna Starkey and Dolores Roberts, whose undergraduate research projects (page 26) each garnered prestigious invitations to events and institutions around the country.

Current students studying abroad as part of the College's new Global Scholars Program made a habit of blogging during the spring 2013 semester and, in doing so, were able to share the once-in-a-lifetime observations and insight afforded by immersing oneself in the culture and academic experiences of another country (page 29).

These are just a few of the wonderful features and stories contained in this issue. I hope you'll take the time to explore them all.

Finally, VWC graduates are encouraged to pay special attention to this issue's Alumni Pages (56-63). In addition to great profiles of fellow graduates whose world travels have been instrumental to their successes, there is a note from the College's new Director of Alumni Relations, Lina Green, a familiar face to many of you.

In her message, she outlines a new direction for the Alumni Association aimed at connecting all of you more deeply to your alma mater. "There's always a chair waiting for you," at VWC, she notes. We hope you'll make a habit of coming home to Virginia Wesleyan College.

Enjoy!
Leona

Leona Baker is the Editor-in-Chief of Marlin Magazine and Director of College Communications at Virginia Wesleyan College. For questions or comments regarding the magazine's content, contact her at lbaker1@vwc.edu.

About Marlin Magazine
By documenting the College's vigorous intellectual culture and diverse community with journalistic storytelling, rich editorial content and professional visual presentation, Marlin Magazine engages its readers intellectually and emotionally and engenders a sense of pride in the College as well as a commitment to its future. The purpose of Marlin Magazine, the periodical publication produced by Virginia Wesleyan's Office of College Communications, is to inform, inspire and entertain a broad readership – including alumni, parents, students, faculty, staff, supporters and friends. The magazine endeavors to reflect the values of the institution itself by showing respect for its sophisticated, well-educated audience through the thoughtful, accurate representation of information and ideas and an overall dedication to editorial integrity.