In Honor of Those Who Serve
Virginia Wesleyan to dedicate Veterans Memorial on November 11
Press Release | November 1, 2013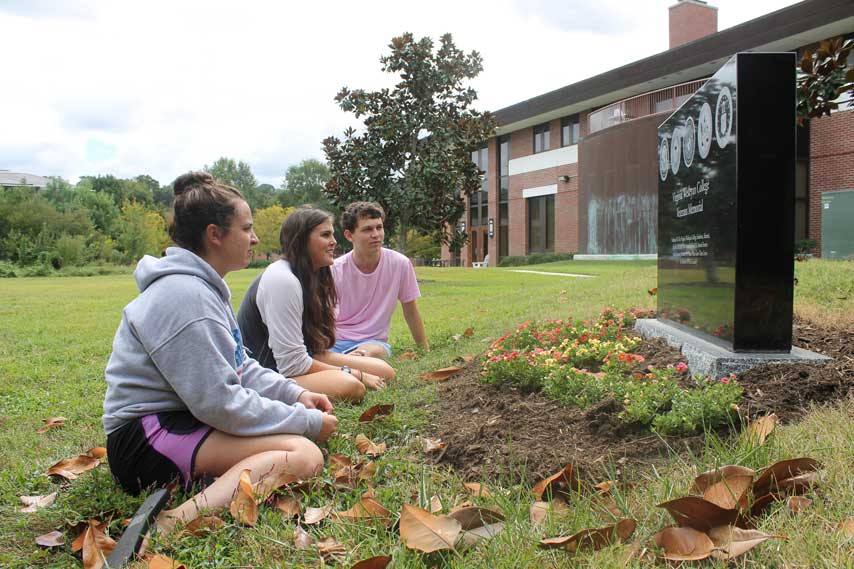 Virginia Wesleyan College will honor veterans with a ceremony and memorial dedication on November 11 at 2 p.m. The VWC Veterans Memorial was recently installed on the Virginia Wesleyan campus on the lawn and memorial garden behind Godwin Hall, where the Veterans Day event will take place.
The ceremony and dedication will be led by Dr. Timothy O'Rourke, Vice President of Academic Affairs and Kenneth R. Perry Dean of the College. Speakers will include Army and Iraq War veteran Keith Mycek, VWC Class of 2015, and Navy veteran Nicole Rust, VWC Class of 2012. Campus ROTC will also participate in the event. A reception will follow in Barclay Sheaks Gallery in Godwin Hall.
The Veterans Memorial was created to honor members of the Virginia Wesleyan College family who have served in the United States Armed Forces and envisioned as a space where people can gather in fellowship or for quiet reflection. Students, faculty and staff were involved in the planning for the memorial including students enrolled in a business management course at VWC who were charged with the beautification of the area surrounding the stone marker.
"The establishment of the Veterans Memorial is a milestone for the College and it will have personal significance for the many veterans who are an integral part of the community fabric at VWC," says David Buckingham, Vice President for Student Affairs and Dean of Enrollment Services and a veteran of the U.S. Marines. "We are honored to have this opportunity to recognize all those who have served our country."
Virginia Wesleyan College is committed to supporting veterans. A participant in the Yellow Ribbon Program and recognized as a Military Friendly School by G.I. Jobs magazine, VWC offers a full range of veterans support services—from financial aid benefits and early registration opportunities to counseling and career services. For more information, contact VA Certifying Official and Financial Aid Counselor Melanie Monk: mmonk@vwc.edu