Into the Shark Tank
Business students model competition after popular reality TV series as part of department's fall conference
By Stephanie Smaglo | November 29, 2012

It's sink. Or swim.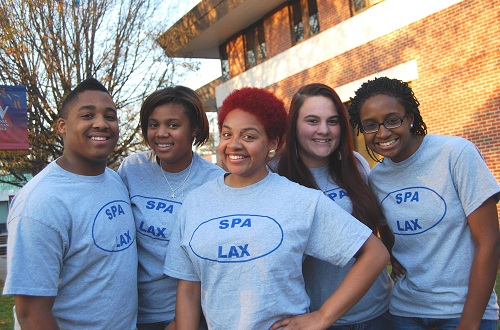 If you've ever tuned in to the hit TV show Shark Tank, then you are undoubtedly familiar with this opening ultimatum. For freshmen enrolled in "Introduction to Business," this entrepreneurial challenge has become a reality.

Business students piled into the Batten Center's Pearce Hospitality Suite dressed to impress and ready to pitch their ideas in true Shark Tank fashion. The popular ABC series, currently in its fourth season, provides an opportunity for hopeful entrepreneurs to present their business concepts to a panel of self-made millionaire and billionaire loan "sharks." If the investors like what they hear, they can fork over funds from their own fortune to help launch or grow the business in return for a percentage of the company's equity. For the past three semesters, this concept has been transformed into a competitive class project and one of the highlights of the VWC Business Conference.

Sitting at the head of the judges table was associate business professor and department coordinator Paul Ewell. Alongside him sat student judges Tempe Martens, Reid Hoffler and Will Randall, all upperclassmen who helped organize the conference as part of Dr. Ewell's "Principles of Management" class. Groups of five were given seven minutes to present their plans, followed by a three-minute question and answer period from the panel.

Spa-Lax, an entrepreneurial group consisting of students from business professor Bob Albertson's class, presented plans for their upscale gym and spa that would also feature a nutritional food store and sports shop. The team opened with their mission statement and company objectives and later dove into a SWOT analysis, marketing and promotional strategy, and a detailed cash flow chart. Spa-Lax CKO (Chief Knowledge Officer) Jessica Moss explained how the group chose their business.

"When we all came together, everybody had different ideas," explained Moss. "I wanted to open up a spa, someone else wanted to do psychology or the relaxation side of it, another team member had athletic interests and then it just kind of combined itself and turned into a gym and a spa."

Remaining Spa-Lax group members, freshmen Jalea Cherry, Kaycee Stegall, and Tyrell Jones, and junior La'Cresha Lambert, were in agreement.

"If you think about it, a spa should go with grooming," elaborated Cherry. "Grooming yourself, staying healthy…why not have a place like that where you can get everything in one? It will cut back on having to go to three different stores."

Spa-Lax was able to impress the theoretical Shark Tank investors with their knowledge about what it takes to responsibly launch and manage a business, and that was the fundamental message of this semester's Business Conference.

Fall Business Conference Focuses on Ethical Standards and Social Responsibility
The theme of this semester's Business Conference, held Nov. 12-17, was based on the College's commitment to the UN Principles for Responsible Management Education (PRME). This set of ethical guidelines was formally adopted as part of VWC's business curriculum in 2008 under business professor Dave Garraty, then Department Coordinator. The principles commit their member institutions to "inspire and champion responsible management education, research and thought leadership globally."

The weeklong event was organized by students in Dr. Ewell's "Principles of Management" class and featured daily PRME-themed activities such as community enhancement, student social responsibility, morals and ethics in business, environmentalism and business sustainability. Participating students kicked off the week with a "Food Drive For Fun" and throughout the week hosted a diverse array of businesses, including guest speakers from the Hampton Roads Sanitation District, the YMCA and Chick-fil-A. A wide variety of topics were covered, including "Sticking to Corporate Morals" and "Ethics and the Environment."

"The idea behind this semester's theme is that we want students to realize that there's a social responsibility component to being in business," said Ewell. "It's not just about making a buck. It's about giving back to the community. We want you to be smart and we want you to know business, but you also need to be good people, good corporate citizens and responsible business leaders."

In keeping with the College's liberal arts tradition, the Business Conference allowed participating students to apply lessons from courses outside of business to aid in the communication skills and professionalism required for efficient teamwork.

"This is our signature event," concluded Ewell. "It ties the entire program together and the students do a phenomenal job putting together two, three, four events per day, five days in a row. I'd put them up against any business students anywhere."

One thing's for sure. These Marlins will be swimming, not sinking.


For more information about the VWC business department and to keep up to date on news and events, check out the Marlin Business Association's Facebook Page or visit www.vwu.edu/business/.