Introducing LiveSafe Mobile Safety App
Virginia Wesleyan takes proactive step to increase campus security

News Release | August 4, 2014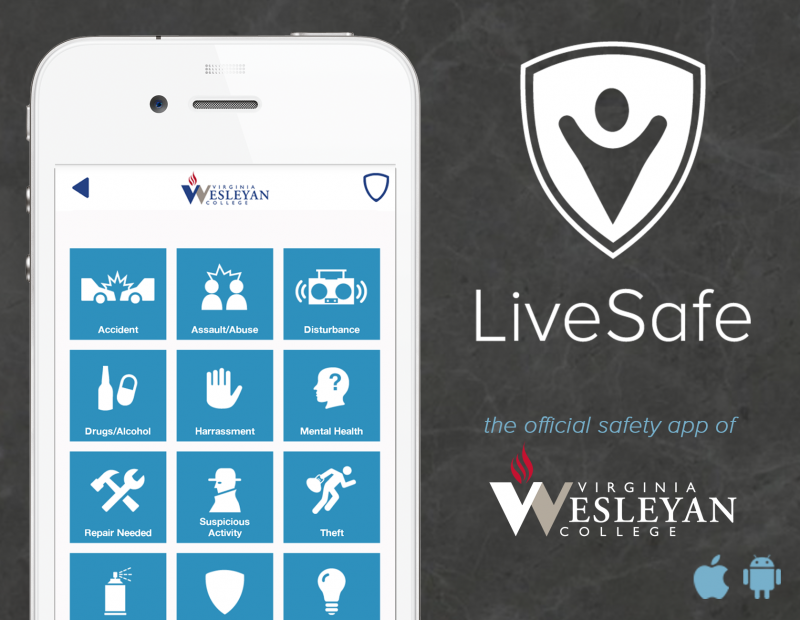 Virginia Wesleyan College is taking a proactive step to increase campus safety. The College is the first higher education institute in Hampton Roads to implement LiveSafe, a powerful mobile application that allows crime reporting and two-way communication.

Designed in part by a survivor of the 2007 Virginia Tech tragedy, the LiveSafe app allows VWC students, faculty and staff to report safety-related information anonymously via text, picture and video. The app—which will be monitored 24/7 by VWC campus security—allows users to ask questions via live chat and provides faster access to emergency help, telephone numbers and important educational resources.

The free, opt-in service also includes peer-to-peer location tracking and a group chat feature, allowing friends and family to help keep VWC community members safe. LiveSafe serves as the College's Emergency Notification System and replaces the former e2Campus system. In the event of an emergency scenario on campus, anyone signed up for the app would receive a text, email and/or push notification on their mobile device.

"Security is at the forefront of many conversations on college campuses today," says VWC Director of Campus Security Jerry Mance. "The LiveSafe app helps create a safe environment, which is essential to learning and to the peace of mind of our students, their parents, our faculty and staff."

Made possible by a grant from the Virginia Foundation for Independent Colleges (VFIC), the LiveSafe app is already in place and accessible to the VWC community. Students, faculty and staff are strongly encouraged to download and use the app. Learn more at our LiveSafe Mobile App page.