It's Official
By Megan Z. Shearin | October 26, 2009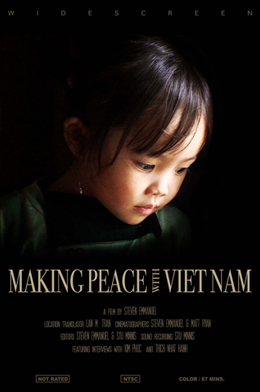 It's official.
Making Peace with Viet Nam, a documentary directed by Virginia Wesleyan College's Professor of Philosophy Dr. Steven Emmanuel, has received an official selection into the 3rd Annual Red Rock Film Festival.
The color, 87-minute film will compete against eight other films in the Feature Documentary category, from November 12-15 in Southern Utah. More than 50 international features and shorts will be showcased at this world-recognized festival. Previous films have included Forever Plaid - The Movie, Macbeth, Heart of Fire, Amal, Sultanes Del Sur, The Mark of Cain, Once, Eastern Promises and several other award-winning films.
"Any recognition the film gets makes me feel like it was worth the effort," said Emmanuel, who spent nearly three years creating the documentary from start to finish.
But he's quick to say that he can't take credit for all the work.
In 2007, Emmanuel traveled with Batten Associate Professor of Communications Dr. Stu Minnis and six Virginia Wesleyan students to Vietnam through an ASIANetwork Grant. On location, the crew shot hours of footage in the rural villages of Vietnam. Students also conducted research in various academic fields on their month-long experience. Topics ranged from the impact of poverty and the lack of health care in Vietnam to organic pollutants in the environment caused by Agent Orange."If there's one thing I want people to take away from the film, it's a greater awareness of the consequences of war, and the need to address those consequences." – Dr. Steven Emmanuel
Emmanuel then returned to Vietnam twice in 2008. The first was over Winter Session with a Learning-Service in a Global Context course.
His second trip was solo – conducting interviews and gathering additional footage.
The film is broken down into six chapters and concludes with the chapter "Beginning Anew." It's focused on the aftermath of the Vietnam War, an unpopular and controversial war for many Americans.
Each chapter has been thoughtfully titled. Chapter two, "Remnants of War," captures interview subjects who were eyewitnesses to the violence and the war's consequences. Chapter six, "Going Back," follows three American veterans who returned to Vietnam to get involved in humanitarian work.
Since its debut in September 2008, Making Peace with Viet Nam has received high accolades from the domestic and international film community, including a 2009 Golden Duck Award, Best Long Documentary, New Beijing International Film Festival and an official selection into the East Carolina Film Festival (2009) and Macau International Film Festival (2009). It also received a Merit Award at the 2009 Buddhist Film Festival, Sri Lanka, and was broadcast on national television in Vietnam, April 2009.
DVDs of Making Peace with Viet Nam can be purchased at the Scribner Bookstore for $20. Mail orders can be placed by telephone 757.455.2103, fax 757.455.3106, or e-mail rthurman@vwc.edu.Even with all the honors, Emmanuel admits that the project had its challenges.
"Because the film was an independent project with no budget, it was a struggle from beginning to end to stay with it," he said. "We didn't know from month to month what was going to happen, we just had a vision."
Emmanuel is currently working on, Contemplating Thoreau, a 15-minute film capturing the spirit of Henry Thoreau at Walden Pond State Reservation in Concord, Mass.