Keeping History Alive
Professor brings history to life through "Signature Experience" project at local retirement community
By Stephanie Smaglo | November 5, 2013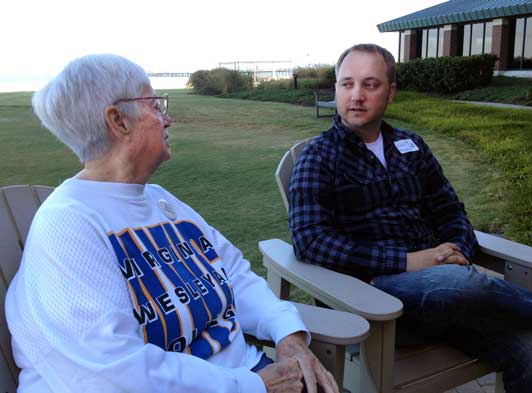 Professor of History Kathleen Casey wants to show her students that history is much more than "simply a stale list of facts about people who don't seem very real or relevant to us today." One of the ways she tries to accomplish this is by teaching her students to discover history in individual voices.
As part of her course "Introduction to Historiography," she has developed a "Signature Experience" assignment that asks each student to take on the role of an oral historian, interviewing a resident of Westminster Canterbury retirement community in Virginia Beach. The project not only demonstrates the unique set of challenges historians face, it also evokes a more accessible side of history, keeping things interactive and, as Casey had hoped, very much alive.
"I wanted to create a transformative learning experience that was hands-on and pushed students beyond their comfort zones," she says of the assignment. Projects like this are indicative of the College's 4x4 curriculum, which creates opportunities for students to put theory into practice outside the classroom. "It gets students out into the community in an important way and helps us find interesting, unknown connections."
One of those connections came in the form of Sheila Vigenski, a Westminster Canterbury resident who graduated from Wesleyan in 1994. During her interview, the Navy wife explained to junior Erich John Heller that her lifelong passion for education drove her to enroll in VWC's Adult Studies Program at age 55. Working a full-time job and taking night classes, Vigenski graduated in just four years with a degree in social science at the age of 59.
"In Sheila I found a kindred spirit," says Heller. "I myself am 30 and will graduate college when I am 32 years old. This provided both of us with a bit of common ground and myself with a healthy dose of self-reflexivity."
In the process of recording and producing historical knowledge, Casey teaches her students how to be self-reflexive and share authority with their interviewees. During their interviews, students are encouraged to create a conversational narrative, giving up some control to their subjects and, in some cases, even offering personal information about themselves. By sharing some of the burden of exposure and vulnerability, interviewees are theoretically able to open up about their own histories more easily.
"Instead of studying texts or artifacts, oral historians work with humans who can change their minds and don't always want to share their most meaningful memories with people they just met," says Casey. "Even when they want to share their stories, the human memory isn't always reliable. But the goal is to try to understand what's meaningful about the past and the people who inhabited it. For instance, I encourage students to think about why an interviewee might use language that today many consider objectionable. Even when it's uncomfortable, I urge them to reserve moral judgment and try to develop a sense of historical empathy through context.
Historical empathy is a tool Casey carries into her other courses as well, which include "African American History Since the Civil War," "U.S. Women's History," "Reinterpreting the Roaring Twenties," and "Race in the American City," among others.
"I teach about things like the Ku Klux Klan, or the prevalence of lynching of African-American men," she says. "Students are sometimes horrified and can easily just shut down, but it's a challenge intellectually and emotionally to push further and try to understand how and why these things happened."
In an effort to connect the past and the future, Casey hopes to eventually turn the oral history project into a digital archive, creating an audio library of the students' interview recordings. By recording the stories of ordinary citizens of Hampton Roads, her goal is to preserve a portion of the region's history while making the information accessible to future students and researchers.
"We want to use technology to share the human side of history with others," she says. "That takes it from an educational experience to an expanded project with permanent significance."
She hopes to continue the project for years to come, inviting future students to play an active role in living, breathing history.
"Part of what students learn is that a person's history is their story. They shape it and, in this case, hopefully share it as well. But historians also play an important role in shaping it when they record and interpret its meaning. That challenging process is what history is all about."