Learning on the Job
Internships provide students with invaluable opportunities to enhance their professionalism and gain confidence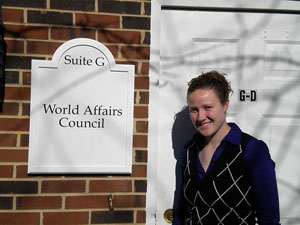 By Lovely Edwards | May 23, 2012
English and theater double major and 2012 graduate Kaitlin Harris, who completed an internship at Studio Center Total Production in Virginia Beach, views her relationship with her mentor and adviser, Dr. Travis Malone, as the key to her success.
"Dr. Malone was able to help me even more because he used to do exactly what I was doing," Harris said, "being the on-camera talent director. His motivation, personal and professional words of wisdom and support enabled me to keep giving 110 percent to my duties while fighting senioritis."
Internships give students opportunities to apply knowledge they have learned from the classroom to hands-on professional work environments. Faculty advisers offer not only encouragement but assistance with setting up and choosing programs that fit students' needs. While in these environments, students develop skills necessary to excel in the competitive job market.
Ninety-three percent of VWC alumni receive job offers or go on to graduate school within one year of graduation. By participating in internships, students are provided with experiences that enhance their professionalism and increase their confidence in their abilities. Business professor Bob Albertson supervises several types of internships, many of which lead to outstanding student achievements.
Among the successes under Albertson's supervision are three members of the Class of 2012: Gage Collins, who completed an internship at the Lake Taylor Rehabilitation Hospital that resulted in his statistical analysis of patient satisfaction being presented to the board of the hospital; John Parrish, who was admitted to the GEICO "Emerging Leaders" program and completed a study of Hispanic entrepreneurship as an independent research project; and Scarlett Barham, who worked part-time at the Virginia Beach Department of Mental Health and Substance Abuse while completing a study on the role of trust in the workplace.
In the business world, critical thinking skills are crucial. When competing for jobs in the market, graduates must be able to make quick decisions based on logic, discipline, time management and effective communication skills. Interning teaches students these skills and offers insight on how to excel in a variety of companies, organizations, industries and institutions.
"Having worked at McPhillips, Roberts and Deans, I have developed an incredible understanding of the accounting industry that no class could ever prepare you for," says David Dunn '12, recipient of the Virginia Society of Certified Public Accountants' Award of Achievement and the MBE Robert Cass Outstanding Senior Award. "I feel as if I learned invaluable lessons at the firm that I will carry with me throughout my professional career."
The use of internships awards students experiences with different forms of media and technology as well as opportunities to learn effective problem solving skills.
Courtney Eisert'12 completed an internship under the supervision of a certified therapeutic recreation specialist at Westminster Canterbury (WC) in Virginia Beach. Eisert implemented a therapy program called iN2L (It's Never Too Late) with the residents of WC, assisting older adults with staying connected by using adaptive computer systems.
"I am going to graduate school at Old Dominion University for my doctorate in physical therapy and this experience has really opened my eyes to the unlimited possibilities," says Eisert . "Some people think that being a senior means you're at the end of your road, but I see it now as the beginning of a whole new journey."