Make Your Way to the Marlin Masquerade
Join VWC family and friends Oct. 4-6 for Homecoming and Parent Weekend
By Staff | September 18, 2013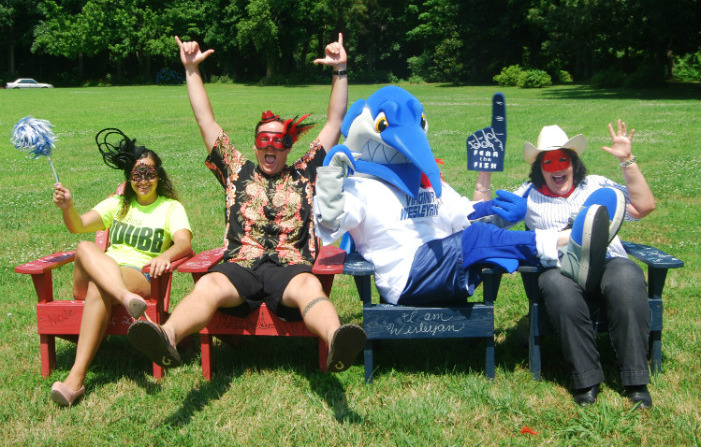 2013 Homecoming and Parent Weekend Events Schedule

Join your favorite faculty, fellow alumni, students, and parents at Virginia Wesleyan's 2013 Homecoming and Parent Weekend Oct. 4-6 and help celebrate the College's past, present, and future with time-honored traditions and special events.

The festivities will kick off on Friday with the annual Homecoming Parade down Batten sidewalk at 2:30 p.m. complete with a Masquerade-themed show of Marlin spirit. Following the parade will be the Performing and Visual Arts Alumni Reception, the Oktoberfest Dinner, the Fall Arts Festival, an alumni social at Shore Break and the Marlin Masquerade Ball (Homecoming Dance).

The VWC Cross Country/Track & Field teams have once again partnered with the American Legion Post 35 for a 5K Trail Run/Walk that will be held on Saturday at 8:30 a.m. The race is open to runners and walkers of all abilities and proceeds will go to VWC's Cross Country/Track & Field teams and the community work that Post 35 does with our military veterans and their families.

Also on Saturday, President Billy Greer and the VWC Parents' Council will host Continental & Cocktails at 10 a.m. at the Everett Tennis Center. Alumni and parents are invited to enjoy a continental breakfast and morning cocktails as the VWC Alumni Association honors its Lifetime Members.

Following Continental & Cocktails on Saturday will be the annual Alumni and Conference Athletic Games, Tailgate, Faculty Tent and Alumni Reunions (including a Chrysler Museum Glass Studio; Get Fired Up demonstration). Later that evening, a Catholic mass will be held off campus at St. Gregory the Great, located at 5345 Virginia Beach Blvd. The Fall Arts Festival will also continue Saturday evening with performances by the Virginia Wesleyan Chorale and the Wesleyan Singers, selected action scenes from the Theatre Department's fall musical, Big River, and displays of the Art Department's finest student work.

Homecoming and Parent Weekend concludes on Sunday with a 10:45 a.m. brunch in Boyd Dining Center, a worship service in Monumental Chapel, and an additional Catholic Mass at St. Gregory the Great. Women's Field Hockey will take on Randolph-Macon College at 2 p.m. on the Marlin Field.

For more information and a detailed schedule of events, visit the 2013 Homecoming and Parent Weekend page in our alumni section.