Marlins of Merit
Students recognized May 2 at Spring Honors Convocation, Academic Fair

By Staff | May 2, 2014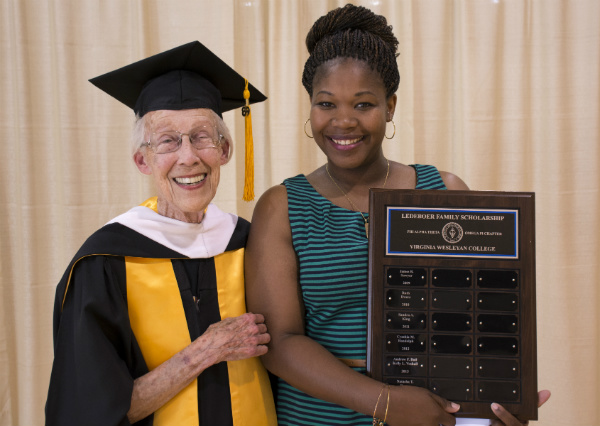 Students' academic and leadership accomplishments were recognized Friday, May 2 at Virginia Wesleyan College's annual Spring Honors Convocation, held in the Convocation Center inside the Jane P. Batten Student Center.
"It is this day, and days like this one, that give me—and I expect, you—hope for the future," said VWC President Billy Greer, as he welcomed guests to the event. "To my young friends, I say congratulations on the honors you will receive. Be humble. Be a better human being. Live life to its fullest, right now."
The event recognized 83 students for their outstanding contributions to VWC's academic community. Individual departmental award recipients were acknowledged along with undergraduate research participants, students on the Dean's List, graduating PORTfolio students, honor society members, student executive council and senators, and the Class of 2014. President Billy Greer, Dean Timothy O'Rourke and Chaplain Gregory West were joined by VWC faculty and members of the community, who presented the awards.
The Wesleyan Singers, led by Director of Choral Music Michael John Trotta, brought the event to a close with a singing of the College's alma mater. An Honors Convocation reception and the ninth annual Academic Fair immediately followed the ceremony in Hofheimer Library.
Photo Gallery: Spring 2014 Honors Convocation & Academic Fair
This year's winners include:
Northside Rotary Citizenship Award - Melinda Bertram
Heritage Bank Annual Scholarship - Ashley Hill
Adult Studies Academic Achievement Award - Sabrina Beach
Art Department Honors - Shawn Riley
Biology Department Awards - Nicolletta Cuthbert, Jeffrey Illinik, Andrea Rodriguez, Margie Sleeper, Eric Walker
Excellence in Chemistry Award - Darren Driscoll
Hampton Roads American Chemical Society Outstanding Chemistry Senior - Darren Driscoll
CRC Freshman Chemistry Achievement Award - Britton Hipple
Classical Studies Award - Kinston Walker
Latin Award - Damon Vine
Communication Awards - Kaitlyn Dozier, Jill Reynolds
Journalism Award - Kaitlyn Dozier
Dora H. Dobrin Awards for Excellence in Social Work - April Christman
Earth and Environmental Science Department Award - Benjamin Bowes, Allison Leapard
Environmental Studies Award - Mikel Conway
Education Department Outstanding Achievement, Elementary - Susan Knowlton
Education Department Outstanding Achievement, Secondary - Carly Ciarochi, Saleen Martin
Education Department Outstanding Achievement, Transfer Student - Catherine Saurino
Education Department Outstanding Achievement, Special Education - Sabrina Beach
Delta Kappa Gamma Virginia Scholars Award - Aimee Clark
Distinguished Graduating English Award - Victoria Pretlow
Faculty Recognition Award - Chelsea Brock, Blake Izaguirre, Katherine Killinger, Victoria Pretlow, Patrick Santos, Katharine Stewart
French Award - Sarah Antozzi, Chelsea Brock
Greek Scholar of the Year - Allison Dazey
Club President Scholar of the Year - Kaitlyn Dozier
Senior History Award - Cory Reeves
Ledeboer Family Scholarship - Natasha Bugey
Library Research Award - Tempe Martens, Emily Midkiff
Outstanding Student in Mathematics - Wesley Davis
Outstanding Student in Calculus - Megan Gerhardt
Outstanding Student in Computer Science - Michael Corder
MBE Sophomore Award - Marisa Harris, Megan Hughes
Robert H. Cass Memorial Outstanding Senior Award - Kirsten Olson
Marlin Ministries Servant-Leader Award - Dejha Crudup
Music Department Award - Kamil Inmon
Political Science Major Award - Kyle Wimbrough
International Studies Major Award - Franchesica Middleton
Distinguished Graduating Seniors in Psychology - Charity Bock, Tempe Martens
Research Award in Psychology - Stephanie Luce
Recreation & Leisure Studies Outstanding Major Award - Christian Almy, Irene Kyrus, Emilie McIntosh
William "Tree" Rountree Monarch Bank Young Life Scholarship - Summer Moore, Andrew Tomajczyk
S. Diane Guadalupe Award - Franchesica Middleton
Senior Class Scholarship - Tyler Taylor
Hite Award for Outstanding Service to VWC Theatre - Gabrielle Mokol, Ada van Tine
Undergraduate Research Program Awards for the Humanities Division - Amari Agee, Isaac Arrington, Kyle Austin, Aoife Branco, Laura Fitrer, Victoria Pretlow, Thomas Simmons
Undergraduate Research Program Awards for the Natural Sciences and Mathematics - Tyler Chang, Nicolletta Cuthbert, Darren Driscoll, Samantha Eanes, Amanda Hyre, Andrea Rodriguez, Thomas Simmons
Undergraduate Research Program Awards for the Social Sciences Division - Amelia Dodson, Renee Ellis, Stephanie Luce, Cory Reeves, Alexis Turner-Lafving